Search found 82 matches
27 Nov 2020 22:59
Topic: ATS 1.40 Speculation Thread
Replies: 109
Views: 7643
It would be nice, if we could have scenic roads in the national park of Yosemite.
08 Nov 2020 13:10
Forum: Maps
Replies: 111
Views: 18677
Do you think you are developing states in the bass occupied by the Viva Mexico mod like Sonora, Baja California, Baja California Sur?
08 Nov 2020 12:52
Forum: Maps
Topic: [WIP] TR Extended Map
Replies: 35
Views: 7240
simply incredible, thank you for this great progress.

08 Nov 2020 12:48
Forum: Trucks
Replies: 66
Views: 36198
small suggestion: why not model the manual gearbox and then the pedals (brakes, accelerators and clutches) which are not present on the vanilla model?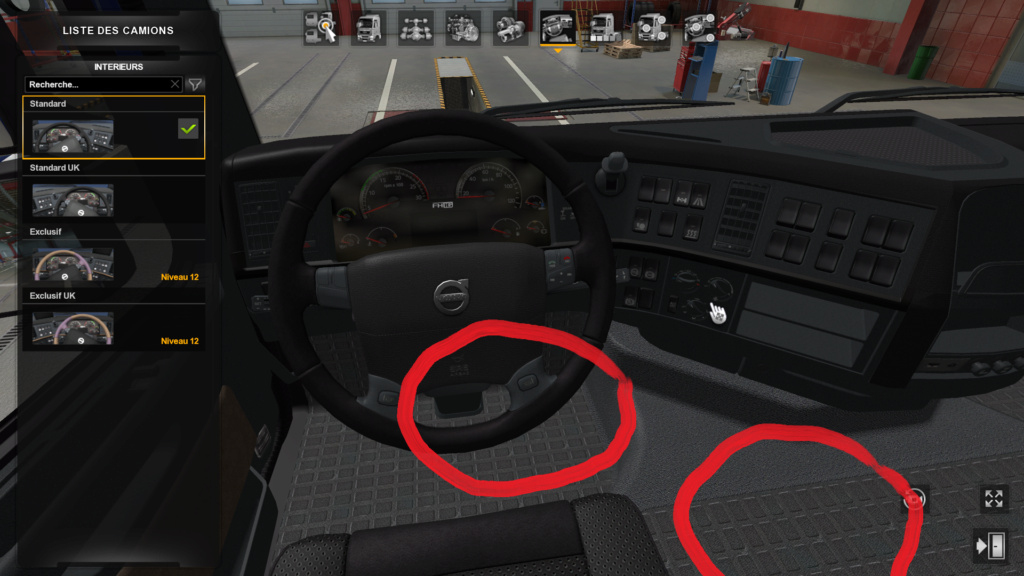 31 Oct 2020 17:17
Forum: Truck accessories
Topic: RJL Interior (WIP)
Replies: 42
Views: 9149
For more realism I think it is important to model the pedals (accelerator, brake, clutch).
27 Oct 2020 16:46
Topic: Iberia Discussion
Replies: 2297
Views: 194801
the Junction with AP-2 https://www.google.fr/maps/@41.2711291,1.5536665,3a,75y,233.52h,99.07t/data=!3m7!1e1!3m5!1s7o8VQHs7eIZ05PJOi9OOpg!2e0!6s%2F%2Fgeo0.ggpht.com%2Fcbk%3Fpanoid%3D7o8VQHs7eIZ05PJOi9OOpg%26output%3Dthumbnail%26cb_client%3Dmaps_sv.tactile.gps%26thumb%3D2%26w%3D203%26h%3D100%26yaw%3D6...
27 Oct 2020 14:40
Forum: Euro Truck Simulator 2
Topic: Spain pre-research tips
Replies: 389
Views: 37936
The viaduct is part of the A-67 motorway, is located between the municipalities of Bárcena de Pie de Concha and Molledo in the Autonomous Community of Cantabria. https://www.louisberger.com/sites/default/files/styles/project_slider/public/Structures4.jpg?itok=y8nLAO0i This structure is 721 metres lo...
22 Oct 2020 17:02
Forum: Euro Truck Simulator 2
Replies: 67
Views: 7569
Andalucía http://www.carreteros.org/normativa/s_vertical/pdfs/andalucia.pdf Aragón http://www.boa.aragon.es/cgi-bin/EBOA/BRSCGI?CMD=VEROBJ&MLKOB=1021715044444 Aragón Slow Driving https://www.aragon.es/documents/20127/674325/ManualSlowDriving2019.pdf/4de9a7f0-ca6d-f4f1-570a-ea1afca92b73 Castilla y L...
20 Oct 2020 11:15
Forum: Euro Truck Simulator 2
Topic: Ukraine pre-research tips
Replies: 9
Views: 2742
There are only two motorways intended as such, the M18 motorway connects the cities of Kharkiv and Yalta, then a portion of the M3 motorway connects the south-east of Kiev to the city of Boryspil. below the map of the main road sections in Ukraine https://dlca.logcluster.org/download/attachments/423...
19 Oct 2020 21:26
Forum: Trucks
Replies: 66
Views: 36198
Finally the classic Volvo FH gets a little bit of love!