Search found 137 matches
18 Oct 2020 04:08
Replies: 28
Views: 1890
Since Lyon was not reworked and we don't have the German A5, I rather want to avoid that route along Toulouse. I think I will take a ferry, especially when Mallorca is included. But maybe I drive along Bordeaux to Bilbao instead. When Andorra is included, I'm really interested to drive to there. Sad...
18 Oct 2020 03:59
Topic: ETS2 1.40 speculation thread
Replies: 251
Views: 26736
I wonder if 1.40 will be just a small new version like 1.34 (first update of 2019) or a major one like 1.31 (first update of 2018) or 1.27 (first update of 2017).
18 Oct 2020 03:49
Topic: Wyoming Discussion Thread
Replies: 806
Views: 50162
Would be cool to have some company depot in Yellowstone, a small supermarket or a small construction site like in Grand Canyon Village.
18 Oct 2020 03:36
Replies: 200
Views: 10540
Imho before they rework L.A. they should rework Barstow; the I-15/I-40 junction needs a complete replacement, the I-15 needs three permant lanes and not a third exit-only lane inside Barstow, the L Street / West Main Street junction needs to be changed (it's an underpass junction, has longer and wid...
18 Oct 2020 03:13
Topic: Mileage bragging Thread
Replies: 148
Views: 9875
@cwat89
except the two Petes 579 at the top every truck was just driven by myself.
14 Oct 2020 00:16
Topic: Mileage bragging Thread
Replies: 148
Views: 9875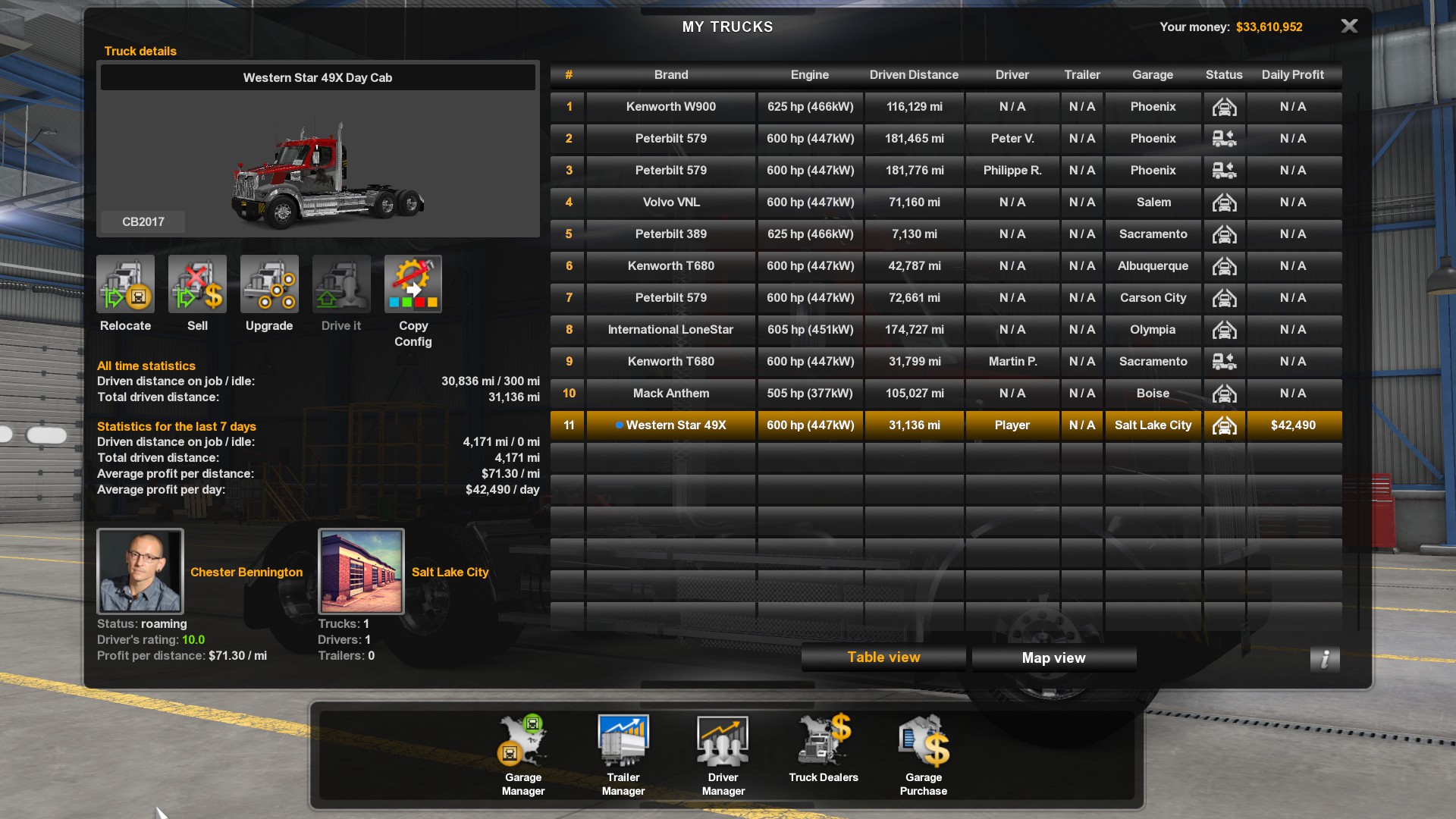 I have over 30k miles with my 49X now.
14 Oct 2020 00:12
Replies: 37
Views: 1487
I-70, US 160 from Arizona or US 491 from Utah. I think the first city will be either Grand Junction or Cortez.
13 Oct 2020 06:18
Replies: 28
Views: 1760
Austria and Switzerland, they are feeling and looking like Stone Age and they are important for drive through traffic. First, all highway junction there needs to be replaced with the real ones. Austria: Especially the Wiener Ring needs a complete rework, the Tauern Autobahn (A10) needs be fully impl...
13 Oct 2020 06:01
Replies: 9
Views: 1083
Some words to Germany: A30 should be extended to A2 so you dont have to drive that rural road near Osnabrück. The A14 (the southern part) should be added for a highway connection between Magdeburg, Leipzig and Dresden. The A20 needs to be extended to the A11 to replace that rural road east of Rostoc...
09 Oct 2020 21:47
Replies: 9
Views: 1083
Fly_Mind The northern part of the A3 would be very difficult to implement, it runs through Köln, Düsseldorf and Duisburg. I think the A7 will be made maximally until the A96, because the last part ends in an Austrian road with is nearly completly closed for freight traffic. The A44 is missing and n...