How to report a bug.
FIRST,
If you think you have found a bug, ensure you are using a "clean" profile - one that has never had any mods activated.
Even using a profile with mods deactivated, that previously had a mod activated on it, can have undesired results. If necessary, start a fresh profile and try to replicate the issue. If you can't, then the problem was with a mod.
DO NOT POST THIS AS A BUG!
In the profile that was affected, deactivate your mods one by one and retry, and once you find the mod, then try posting about it in
Help center - player to player
instead.
If you
can
replicate this on a fresh clean profile, then:
Check if it isn't already reported

- use http://forum.scssoft.com/search.php, or http://topdeskle.altervista.org/scs/search-scsforum.php
.
If it is, then please feel free to contribute to the topic. If it's locked with a resolution, then there's no need to report it again.
If you think the the issue hasn't been reported, and you want to help us fix the bug, then we need detailed information about it - please follow these rules:
Your Report should include:
- screenshot with minimap
- description of bug
- version of game
- 32bit or 64bit
- reproducibility (once, sometimes, always)
-
very importantly, the game.log.txt
, found in your Documents folder where the ETS2/ATS profile is stored, on Windows this is usually My Documents\Euro Truck Simulator 2\ (My Documents\American Truck Simulator\) , and may appear abbreviated to "game.log" where on Linux and OS X the logs are found at "~/.local/share/Euro Truck Simulator 2/" ("~/.local/share/American Truck Simulator/"). Post the contents of this using the[code]tag. If it's too long to fit, you can use
http://pastebin.com/
instead, and paste the link here.
- if the bug resulted in a crash of ETS2/ATS, then also post the
game.crash.txt
, found in the same folder. (However, try updating your video drivers first - this can often help.)
- do not post a list of different bugs within the same topic or add different bugs (not inc different locations of same bug) to existing bug topics, it is easier for the Devs to track when they are each in there own post
Players with more experiences could add coordinates (from bugs.txt) - this helps the developers find the location much more easily:
How to find coordinates - step-by-step:
1) Find config.cfg in the Euro Truck Simulator 2 or American Truck Simulator root folder in My Documents
Edit the lines
g_developer "0"
g_console "0"
to read
g_developer "1"
g_console "1"
2) in game, line up your screenshot and press SHIFT+F11
3) write your bug text, then click on REPORT SCR
4) open bugs.txt in the ETS2/ATS folder, there you will find your text with coordinates
5) in the Screenshot folder, you will find png file to use with your report.
------------------------------------------------------------------------------------------------
An example of a good Bug Report: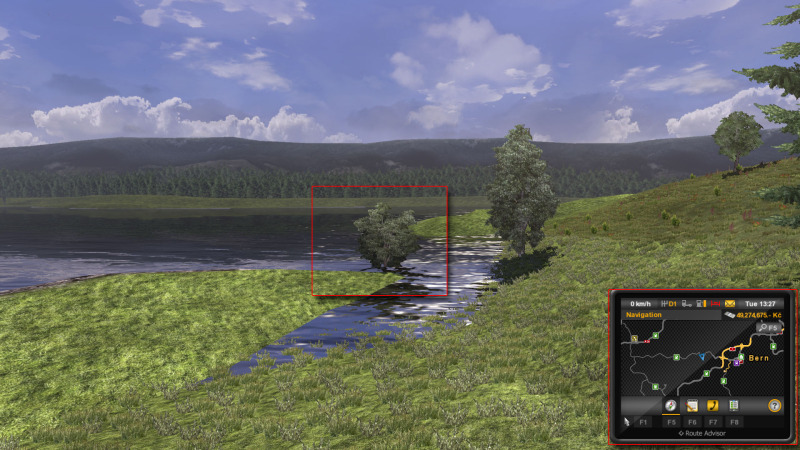 There is place, where the tree is under water. Looks like there is flooding too.
Game version: 1.2.11
tree under water ; [21/12/2012 12:55] ;-15072.6;35.0039;19793.4
always reproducible
-------------------------------------------------------------------------------------------------------------------------
Thanks!