Anyone who's tried using custom split normals (or forgot to delete them from imported geometry) has likely run into the issue where the result looks like the dog's breakfast. This is (usually) because of a fundamental issue with how the split normals data is (or rather
isn't
) processed when the mesh is triangulated (i.e. when quads and ngons are turned into triangles). The Blender developer responsible for this module
doesn't consider this a bug
, so it may be a long time until this is corrected. I've come up with a workaround, though it's not exactly pretty; You will most likely have to redo this every time you make a major geometry change. Nothing in Blender is ever simple. It builds 'character.'

For reference, here's an example of a mesh I've been wanting to correct the normals on for a very long time. Wheels are highly circular and highly reflective. It doesn't take much scrutiny to pick out any flaws in shading or reflections: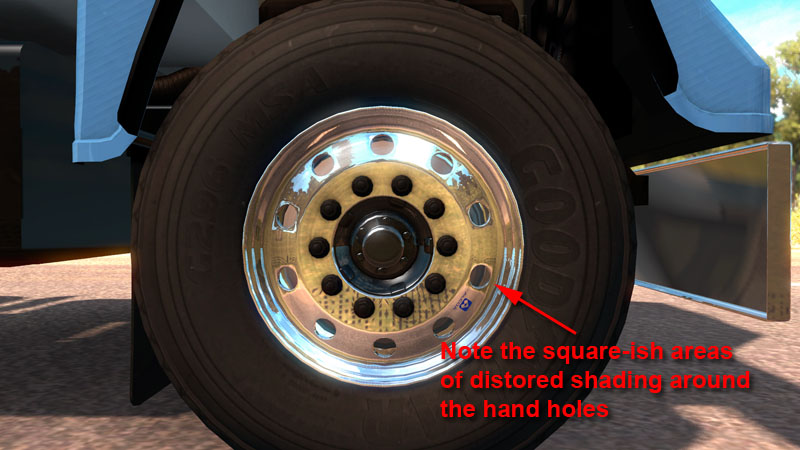 First, set up your mesh the way you want it to appear using Normal Edit, Data Transfer,
Y.A.V.N.E.
(awesome plugin btw), Blend4Web, or whatever other tools you typically use to fine-tune your normals. You could also just use an imported mesh with custom normals as well. We'll call this the 'master' mesh. Duplicate your master mesh to create the 'slave' mesh. The slave mesh will be the one that gets exported through SCSBT. From the slave mesh, remove all modifiers related to custom normals, and remove the custom split normals data set. Triangulate the slave mesh, and add a Data Transfer modifier with the following settings: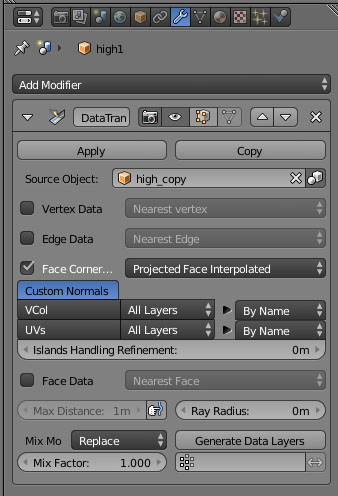 Run the export helper, boot up the game and bask in the results: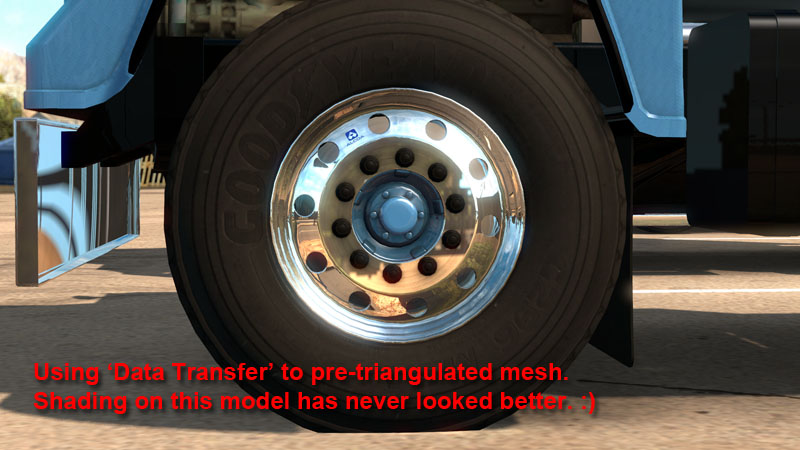 50keda:
This seems simple enough to work into the exporter, no? You usually make a temporary copy of the piece to triangulate anyway... Why not transfer the normals data from the original in the process?