Hi,
I create this topic sorely on feedback, suggestions, and anything related to this project of Sierra Nevada. Now released for free.
Download;
https://reformaats.dudaone.com/downloads
This mod remodels extensive areas in northern California and the vast majority of Nevada in the base map of ATS.
Load order;
*** (other mods, trailer, weather, graphics)
**(other map mods such as C2C, CanaDream, etc, use Mega Resources C2C patch here;
https://sharemods.com/lzpwrtmbc4o4/Mega ... 2.scs.html
)
-Mega Resources 2.1.19
-Sierra Nevada 2.2.29
**(other Mexico maps if used)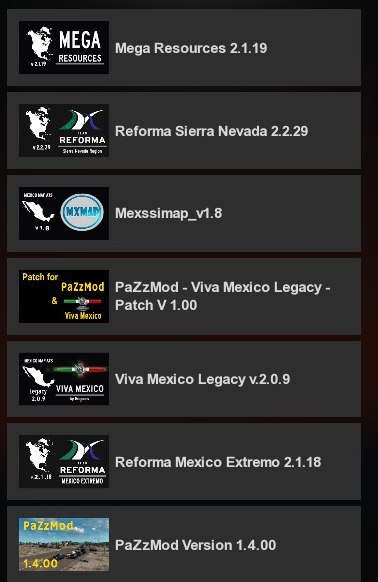 Consider this;
-Only works for ATS 1.39
-You need Oregon, Washington, New Mexico DLC for the map to work
-Not compatible with Us Expansion and Minor Urban Overhaul... unless if patch files are provided by authors.
-Google maps GPS mod causes crashes using the mod.
Known issues (don't report)
-WARNING> [tobj] Sanitized issue in the console, will be fixed until the dump option is back in 1.37.
-Some of the FPS drops in certain areas occurs approaching to big cities where the game must load many objects placed such as buildings, street props, cars, lamps, etc. This is normal and the drop is momentary short depending on your PC specs.
-Water level errors (those can't be fixed in the map mod due to different height in water)
-Some mountain pop-up in certain areas (it's a game engine limitation which I can't really control)
- [parked_vehicle] "No suitable vehicle model found!" error (it's an SCS engine bug)
-Some far models will be eventually fixed in a future for better resolution and quality.
-An invalid color variant index in item.
-The skybox problem is related to other graphic mods, not this map.
-Triple spawning trailers into AZ mine prefab bug in Nevada, that's an "SCS bug", the prefab wasn't meant to be designed for triples in Nevada.
Please stay on topic, don't talk about the leak or other pay-ware mods, etc anything must be strictly related to the map mod and forums rules.
Consider a donation to my cause here; paypal.me/eeblem
Thank you!