Forum rules
SCS as a company do not wish to have paid mods on this forum.
While we understand that not all paid mods use the

Intellectual Property

of other companies/people, it is very hard to moderate what is and isn't acceptable when money is involved. There are also concerns that it could look unfavorable to potential work partners going forward if SCS allow mods that may potentially use unlicensed branding.
Posting in the Mods forum (ATS and ETS2) is restricted to sharing free-to-the-public mods and providing support for mods. For more details, please check chapters [4] and [5] of Forum Rules.
Probably you have a mod order wrong, or an outdated mod. You have to look carefully.
---
Posts: 12
Joined: 02 Sep 2020 22:00
The game version has now been updated too 1.39 please update this mod to work with the current game version 1.39 please and thx.
---
Posts: 76
Joined: 04 Feb 2018 00:26
Location: Pasco County, Florida, U.S.A.
Contact:
@crazycanuk1972
Calm down, it will be updated soon, no need to beg for it to be released immediately....

---
Posts: 76
Joined: 02 Nov 2019 03:49
---
Folks, Mexico Extremo by Team Reforma has been updated to 1.39:
https://sharemods.com/rzty9jof4s2m/Refo ... 9.scs.html
You will need the latest Mega Resources:
https://sharemods.com/gldcgjh3r8o5/Mega ... 8.scs.html
and you will require the latest Legacy Viva Mexico file, at least until Chihuahua is released publicly:
https://sharemods.com/r3lc9jdy5mfj/Viva ... 9.scs.html
If you play with C2C, Great America, Pazz Mod or Mexssimap: please use their respective patches
C2C Patch:
https://sharemods.com/3ouwhz089dvc/Refo ... 2.scs.html
Great America Patch:
https://sharemods.com/72srw2u0gz0x/Refo ... 2.scs.html
Pazz Mod Patch:
https://sharemods.com/f0ytciikr9kg/Refo ... 2.scs.html
---
Posts: 86
Joined: 24 Mar 2020 11:42
Location: Gironde, Nouvelle-Aquitaine, France
Contact:
Do you think you are developing states in the bass occupied by the Viva Mexico mod like Sonora, Baja California, Baja California Sur?
SCS forum user since 2020
---
---
Near Nogales, it's Viva México, which of course we can take a look and fix for future versions.
New load order using new maps for 1.39;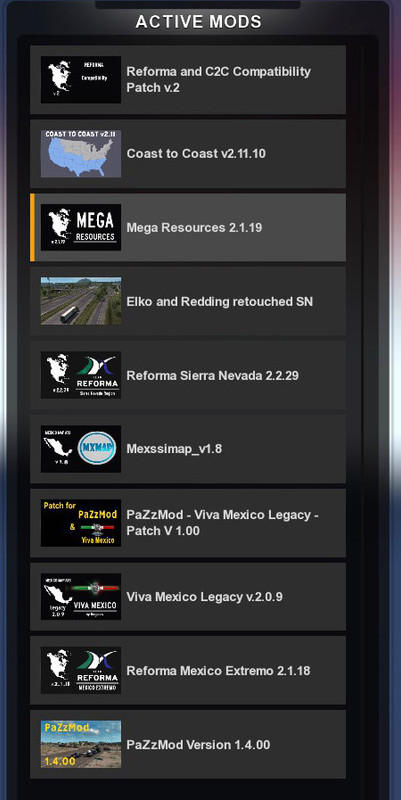 If using C2C, place the C2C Reforma compatibility file above C2C.
---
Thank you Jbte. I can't find Reforma and C2C compatibility patch v2. Do you have a download link?
---
---
Who is online
Users browsing this forum: No registered users and 8 guests