Forum rules
SCS as a company do not wish to have paid mods on this forum.
While we understand that not all paid mods use the

Intellectual Property

of other companies/people, it is very hard to moderate what is and isn't acceptable when money is involved. There are also concerns that it could look unfavorable to potential work partners going forward if SCS allow mods that may potentially use unlicensed branding.
Posting in the Mods forum (ATS and ETS2) is restricted to sharing free-to-the-public mods and providing support for mods. For more details, please check chapters [4] and [5] of Forum Rules.
Posts: 2741
Joined: 20 Jun 2015 06:17
Contact:
@Rockeropasiempre
- The example on this topic has been implemented in my mod
---
dear
@Drive Safely
have you discovered how the sound distances is managed now? I removed the old rules in traffic data as I am sure everything is now controlled in FMOD. for every event we have the parameters and the master (parameter?) which is at the bottom of all inserted parameters. that has a spatializer with min and max sound distances. according to Harven we should not add a spatializer to each event as that is controlled by the master. so I assume the distances we add here will reflect only to that event? apparently we can add different distances for other events.
so I made some tests and max distance for each event is between 50 and 100 (meters?) but in game I don't seem to see any difference.
also not clear why min distance would be different than zero? what it means a min distance of 3? that there is no sound at 2 meters?

in my first test actually I have done something (don't ask me what) and I have sound for a very long distance like I could not see the car anymore but sound was still there

really I have no idea what settings I had but it was for sure in the spatializer

about my project I found a very nice way to work, basically all sounds (idle, low, high and tire) are all set in the speed "timeline" as separate parameters. according to each sound I decide at what speed the transition will happen. I find this more useful because not all sound will run in the same time but one by one according to the speed. tire noise run only from 40 km/h and received a volume and pitch automation. every other sound is natural.
my opinion about your Subaru is that the sound is better in the game than I expected after listening the sounds in the project. the small inconvenient is at small speed where the pitch has the same negative effect as in 1.36 but les noticeable in 1.37. my idle sound is a bit louder and if possible I apply also a bit of rev which works well with the transition to the next sound (for low speed)
---
What I meant is that when you create a 3D event it will already have the spatializer in it (in the master track of that event, you can set all the attributes there).
---
---
thanks you both! @Harven, I understood it correctly but did not explained it correctly, sorry!
and this is exactly how I did it but it seems to be no difference between 50 and 100 in traffic

are these numbers meters? what would mean the minimum distance set at 5 and maximum at 300? sorry for this dumb question

and also sound size and the next one are still not clear for me even after watching the video where you explained them!

---
Posts: 716
Joined: 21 Jun 2016 05:10
@Drive Safely
I leave you the project sample that I started:
Draft:
https://sharemods.com/k53brvg28p4r/abbart_test.rar.html
I just wanted to tell you, that in your first subaru project, I observed that the sound of the wheels doubled it. I have found that this is not necessary. Choosing in timeline, that sound, you must mark the option "loop" below, and in this way you can lengthen the track as much as you want.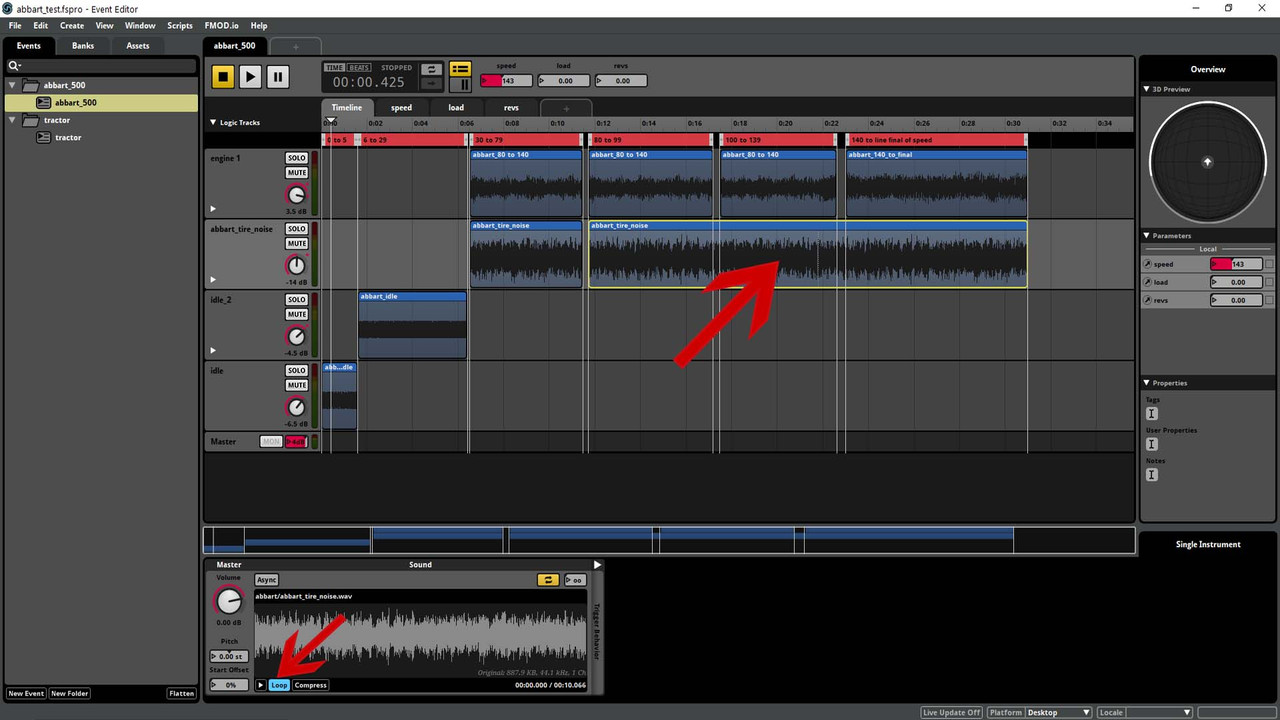 Regards.
Always soft
---
guys, since we have many sounds to add and basically now every car will have minimum 3 sounds (I have mostly 4) I am wondering how is better for performance, let them load all together and apply volume automation? or with no volume automation and in separate parameters on speed timeline? (can be this called speed line?)
I have the sound on the speed line and probably for trucks we can add additional sounds on revs or load, although I don't know how exactly we can exploit these options yet

edit:
@Rockeropasiempre
I forgot to watch your video when I arrived at home, so I did it now! you are an the right direction but one thing I don't like in your project, those transitions form different speeds will be very noticeable in game when Ai will accelerate. I see you adopted Harven's second example, but if you like this progresion sound you can try with one single sound and use pitch option according to speed or revs

or you can use this which make transition very smooth: sometimes if the sound allows it I add also a negative pitch at the begin and next I keep it at zero for best feeling

---
Posts: 716
Joined: 21 Jun 2016 05:10
@cip
thanks for the suggestion mate. I am more focused at the moment on the progression of engines, since being the only template that we have with some security, it is the one that you can more or less work with, noticing the improvements that practice is giving. These practices are to divert them later to the area of traffic sounds.
@Drive Safely
friend, could you explain on some occasion, or publish some of the projects that you are using to insert the sounds of vehicle progression, such as speed, and see in this way how you are developing it? I think that with what I am learning and assimilating with the development of the engines, I will be able to later unite it with the ideas of the other colleagues, and unify criteria.
As a useful note for those of us who are focused on all this about sounds, I want to comment, that it is quite useful to verify before integrating the assets into the project, that these are not exaggerated in duration. For example, an asset that lasts more than 15-20 seconds can interfere with the asset that has to be played right after, completely covering the next sound, and entering a loop of which the first sound is not capable never going out. All this leads to intermittent sound cuts. By my own wrong practices, I can assure this. What's more, I can assure you that the cleanest and most continuous sound is produced with the shortest sounds in time. It is better to have more short sounds than to have few and long ones.
Always soft
---
Rockeropasiempre

wrote:

↑

14 Apr 2020 01:59

I am more focused at the moment on the progression of engines, since being the only template that we have with some security
actually the same template works well for traffic sounds. it's true that we are awaiting for the official guide for traffic sounds but it cannot be much different than what we have already. judging also from the sound samples from scs banks for cars and trucks, Drive Safely may have done even a more complex job with his bus sounds at stops

after experiencing more with FMOD I find that
@Harven
was absolutely right to encourage us to use the revs parameter for traffic, it's absolutely useful for Ai trucks were we can add 2 different sound depending on the rpm of Ai plus a pitch automation. now I added revs parameter also for cars useful especially at low speed to make the transition with the idle sound, and I find it even more useful for motorcycles

about maximum distance of sounds I found that smaller values are better, as example the bus sound of Drive Safely can be heard from long distance which should not be the case. so my distances for cars are between 5 and 50-65 , trucks 8-100, sport cars and motorcycles 7-150
---
Posts: 716
Joined: 21 Jun 2016 05:10
Hellow
@cip
I was also experimenting a lot with distances, putting the truck on one point, modifying the meters with the live update, and taking as a reference, for example, a lamppost or signal, which was as far as the sound was finished listening. Totally in accordance with the development in the rpm values, it is the most progressive way that fmod has to develop the sound quite well. I also take the opportunity to tell you about other tests I did a few weeks ago, regarding the way to listen to the sounds in your truck cabin. As you well know, this is accomplished with the "Spatializer", from which you can configure your position in the cockpit. This proved that it is best to leave it in the center, in each event, but if you are interested in a certain track having a sound, which you want to be heard by a specific part: Left, right, back, up, down, front , behind ....., you can add another spatializer to that track, and turn on or off any of the 5 speakers, and also move your position forward or backward with respect to them. result is amazing, I use it a lot, to derive the exhaust of the trucks, behind my neck

And as another contribution that I accidentally discovered today, I want to tell you that the names for banks can contain up to a maximum of 26 characters, including letters, hyphens, periods, and the "bank" extension itself. If it exceeds this number, the program cannot read the bank.
A greeting.
Always soft
---
Who is online
Users browsing this forum: No registered users and 2 guests