ACC does have a "follow the speed limit" feature which works in both ATS and ETS2. It requires use of the plugin that comes in the ACC package. Installing the plugin is described in the ACC documentation. You must install the plugin in your game's install directory. Assuming your game is in the default install location this is where to copy the "ACC_Plugin.dll" file:
Code: Select all
C:\Program Files (x86)\Steam\steamapps\common\American Truck Simulator\bin\win_x64\plugins
If the "plugins" folder does not already exist there then you should create the folder.
When the plugin is installed correctly then the "(inactive)" text (by the yellow arrow in the image below) will disappear when you start your game, indicating that the plugin is
active
. (Note: the game will pop-up a new message about using advanced SDK features, this is a result of the plugin being loaded.) If ACC still reports "(inactive)" after you have started your game (and agreed to the SDK warning) then the plugin did not load. The two buttons by the blue arrows in the image below will let you set the keybindings for the two speed-limit functions: the one on the left is for ACC to set the cruise control to the current speed limit (once), while the one on the right is for ACC to force the cruise control to
follow
the speed limit as it changes.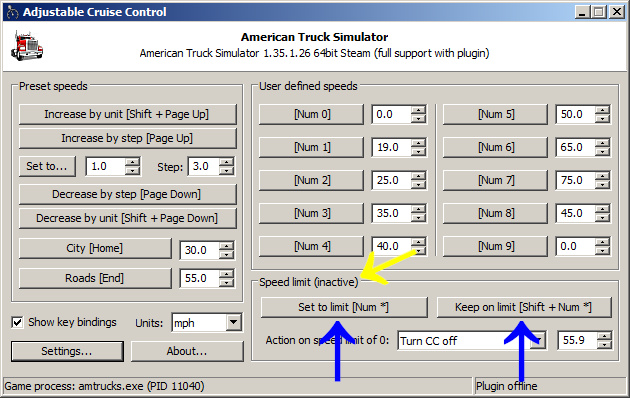 For example, with the keybindings in my image, while driving I would press the Shift key plus the * key on the number pad and the cruise control will follow the speed limit. Cruise control will continue to follow the speed limit until I disable cruise control (for example by pressing the 'C' button, pressing the brake pedal, or pressing one of the other ACC keybindings).