Surprise! Here's a little something I started last August (around the same time I started the Alutrec). This is a thorough rework of Corby's Tremcar food grade tanker with a drastically lower poly count, tweaked proportions, and some texture/material work that I'm fairly happy with. It uses the base game milk cargo, supports advanced coupling and has animated landing gear — all that good stuff.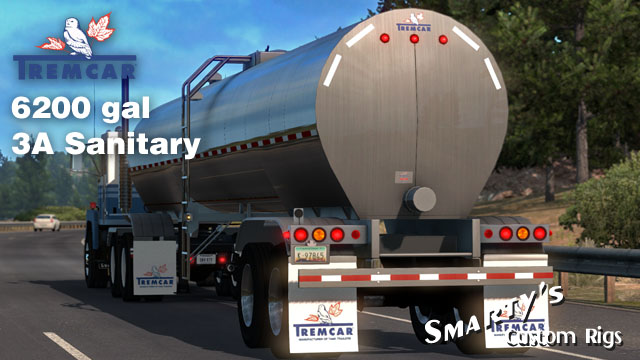 The overall poly count is around 24,000 tri's and the texture memory footprint is around 2.1MB. It should have similar performance to any of my previous trailers (if not slightly better due to fewer draw calls) — comparable to the Schwarzmüller DLC trailers in ETS2.
Wheels:
This mod is compatible with my wheel pack. However, the corresponding update to the wheel pack will be later this week. In the meantime, you're stuck with the lovely SCS wheels. Mmm-mmm!

Credits:
Corby - Original trailer model
Special Thanks:
50keda - 50keda for his invaluable support while learning SCS Blender Tools, and also for developing SCS Blender Tools
Software Used:
Blender 2.78
SCS Blender Tools
Adobe Photoshop CS4
Notepad++
Support

Please, do not re-upload this. My official distribution channels are Steam Workshop and scr-rigs.com only.
All brands and trademarks that appear in this mod are property of their respective owners. Unless explicitly stated otherwise, this mod is not endorsed by or otherwise affiliated with the owners of any trademarks that appear in it.
MANUAL DOWNLOAD HERE
WORKSHOP
Changelog
Code: Select all
1.4 (for 1.38+)
- Fixed blank specular map on lights
- Added 44 ft/6500 gal model
- Added standard rear bumper model
- Cargo definitions now use .sui extension, following SCS' lead
- Added light panel accessory for suspension bogey
- Localization update

1.3 (for 1.37)
- Trailer now uses SCS 'foodtank' body type
- Separated markers, mudflap and r_bumper accessories
- Added f_body, bogeypnl (future), and livery (future) accessory locators.
- Separated body model; added polished body option (end caps are prebuffed to match shell instead of standard #4 finish)
- Added two new cargoes: Cod Liver Oil, and Molasses

1.2
- 1.35 model format
- New custom cargoes (canola oil, hfcs, maple syrup, peanut oil)
- DOT tape now uses retroreflective effect

1.1
- Ownable version
- Added custom cargoes and body type
- Localization added for cs_cz, fr_fr and ru_ru (additional languages use english localization)

1.0.5
- Added localization for Trailer Browser (en_us and en_gb)

1.0.4
-Updated for 1.32 cargo-based system

1.0.3
-Added basic trailer cable support

1.0.2
-Corrected vertex colours on several pieces

1.0.1
-Corrected extended shadow orientation
Video Preview: