I've been meaning to get to this one for a while. A number of AI vehicles are using
vehicle.flare.orangel
for their rear marker lights when they should be using
vehicle.flare.rearl
. For example, look at greyhound_mc12: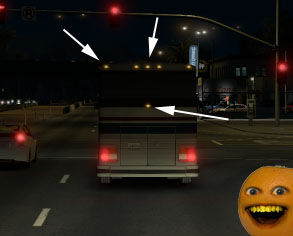 Refer to FMVSS 108 for trucks, busses and MPV's
:
Especially look at positions 5a, 6 and 7 (Rear Side Marker Lamps, Rear Clearance Lamps and Rear Identification Lamps respectively).
A list of affected vehicles:
box (all variants)
bus_s
f350
greyhound_mc12
package_van
solera
In most (if not all) cases, the lenses on the visible model are also (incorrectly) orange.