Spain is the 3rd country in the world with most UNESCO sites just behind Italy and China (there are 42 cultural, 4 natural and 2 mixed). There are 15 cities in Spain that have the consideration of world heritage. Some of them have a specific pictogram, others use the standart one.
A-4 Córdoba. It says "CIUDAD PATRIMONIO DE LA HUMANIDAD". I can't find a signpost with higher resolution.
A-2 Alcalá de Henares. Exit 23, not far from Madrid to the northeast.
Jaén province, Úbeda & Baeza make it to the UNESCO list.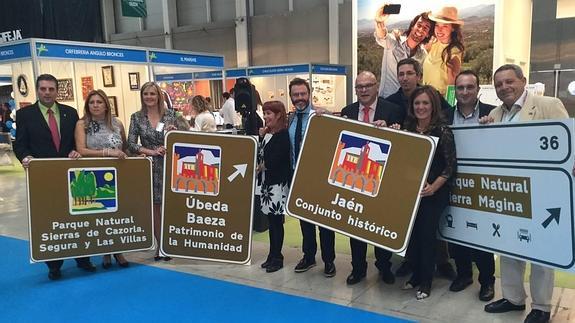 ANTEQUERA, in A-92 + A-45 junction.
TARRAGONA, IN A7 OR AP-7
For Ávila, Segovia, Toledo, Mérida, Ibiza, San Cristóbal de la Laguna, Santiago de Compostela & Cuenca I couldn't find their respective signposts (or different ones), I can provide you with higher definition of what I already posted some time ago, this time I got them from a nation-level source document and they are specific for UNESCO sites, they also look a bit sharper than in the older post.