REL-Red Sea Map 1.1.1. - (1.38/2.50) by TerraMaps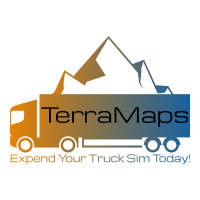 Welcome to the Red Sea! This map mod will connect the ProMods ME road from Taba south into a whole new area on ETS including cities up and down the Red Sea coastline.
The image below shows a preliminary plan with realistic "starter map project" goals. In the future, we can expand to Ethiopia and South Sudan and who knows the potential as the road networks in East Africa are not only simple to build but very fun. Precision and detail to the 1:19 scale is given as well.
Project Discord:
https://discord.com/invite/kvqE3z3
Dependencies: ProMods and ProMods ME (Middle East)
Load Order: Directly above ProMods ME (PMME)
Progress
23 OCT 2020:
- Patch Version 1.1.1 is released. It contains Nuweiba rebuilt, mountains and terrain redone from Taba to Sharm el Sheikh, VolgaMap bug fixed, and ferry in Sharm opened to allow for ferry mods to connect to Sharm el Sheikh, if applicable.
10 SEP 2020:
- Version 1.1 is released. It contains Sharm El-Sheikh, some adjustments to Nuweiba and the roads connecting the cities.
30 AUG 2020:
- Red Sea Map is officially released. Version 1.0 contains the road connection south of ProMods ME 2.50's Taba, the city of Nuweiba, and the small town of Dahab. Special thanks to our beta testing team who worked diligently and hard this past week to get this map released to patient fans! Expand your ETS2 map, we'll keep it going down through Africa!
20 MAY 2020:
- Discord and ProMods WIP Forum Post made to engage the community
- Road to Nuweiba, Red Sea Map's first city, complete. Construction on Nuweiba is currently in progress. I will most likely release it once Nuweiba is complete to provide a teaser for what's to come.
Media
The map is and always will be free, so you can pay me in "subscribes", appreciate it!

Download
Version 1.1.1:
https://sharemods.com/1ausgcqqs6dg/Reds ... 1.scs.html
Background Map:
https://sharemods.com/fonjtuhwhwfj/ETS2 ... D.scs.html
This background map is Bengan's ProMods Extended Background Map with an edit to shift the middle east back to place which carries over Red Sea in the right position on larger map combos.
If you want to link to this map Please use the original link.
Recruitment for a new mapper
Recruitment for a new mapper
Hello Truckers,
In order to maintain continuity, we are now looking for someone who wants to create maps and mods for TerraMaps. We prefer someone with experience.
If you are interested, please fill in the application form at
#team-openings channel
and follow the application procedure on TerraMaps.
https://discord.com/invite/kvqE3z3
Thank you all!
Best regards,
TerraMaps