Can Opener
This mod will open all the doors of your big garage** and place some random parked AI trucks with trailers in the free spots inside.
Starting with
0.2, there is an animated gate at the entrance.
0.3, there is a sound played while the gate opens.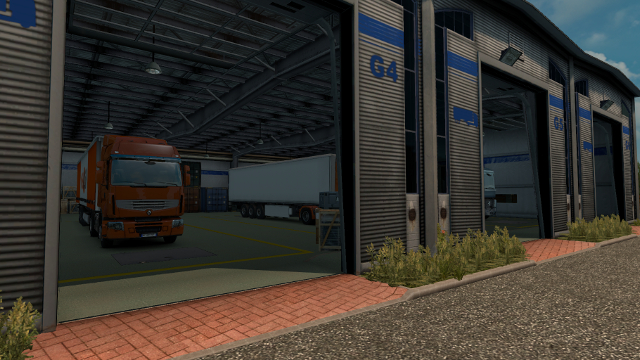 Warning
This mod replaces ALL*** large (expensive) garages all over the base map and new DLC areas (Going East, Scandinavia, Vive la France).
You must have patience and

wait until the gate is fully open

, because the collision model of the gate is not animated and only removed at the end of the animation (the beacon stops blinking)!
DOWNLOAD
Credits
Prefab by
SCS Software
Tweaks and additional models by
ohaha
Note
* The link takes you to a folder on my GoogleDrive. When the mod is updated, I will just replace the file inside the folder.
** The old mod was also opening the doors of the service / dealer buildings, but now they got so diverse that it's too much work. This mod is limited to the big garage.
*** Map mods which alter the definition of the large garage prefabs of base map and Scandinavia (which is also used in Vive la France DLC) could render this mod useless.