Posts: 43
Joined: 04 Oct 2015 13:22
---
All right, I found out proper replacement for Baltomorsk

. That and 12 Bl.S. companies should be done by Thursday. And then there are several more (bonus) things to be done,
too which means full mod launch should be for weekend.
There are some problems related to a few Black Sea companies.
Why is Ocean Solution Group listed as a boating company in wiki? It's clearly a shipyard, and guess what? There is one in Ruse, 5 in Varna and one in Mangalia. Of course they are
different companies. I wasted time looking for boating company until I checked and found out it's not :/.
About food industry – I really wanted to replace Kolico with Caroli Foods Group as is obvious spoof. Project is scrapped as logo sources are very bad and there is no upscaling
magic which can fix them :/.
Yes. Every mod for every game which has Steam Workshop support is automatically updated once you subscribe to it. No need to worry about updates.
---
Thaanks for keeping us posted, and for all your efforts!
---
Thanks for the replies guys and for the great mod and updates.
---
Last edited by
mk82
on 11 Jun 2020 15:48, edited 1 time in total.
---
The decision to go as only DX11 compatible cost me a lot in Steam Workshop popularity but who cares? Quality over quantity

.
There you go – only two companies are left to be replaced

. Maybe I'll do them today, maybe tomorrow. Also, both me and my friend who did initial version of Real European Gas Stations Reloaded
are going to work on the bonus content for a weekend.
About new forestry company in Baltic DLC – Bergs Timber owns the largest sawmills / wood companies in Latvia and Estonia, and since there is no Baltomorsk in EE, it means Byko Lat and Vika Wood
in LV. They are both represented on the trailer. Bergs Timber bought them from Norvik, but they payed in shares so Norvik owns 65% of Bergs, and that happened just two years ago. Norvik also 100%
owns Norwood SM in Russia.
UPDATE
Fully replaced 11 more companies:
Baltrak Lojistik –--> Omsan Lojistik (Black Sea)
Oțel Impecabil –--> Otelinox (Black Sea)
**Stomanena Roza –--> Стомана Индъстри aka Stomana Industry (Black Sea)
Trade Market Istanbul –--> Arkas Lojistik (Black Sea)
Dobra Ferma –--> Агротайм aka Agrotime (Black Sea)
Low Field –--> Ingleby Farms (Black Sea)
Baltomorsk –--> Bergs Timber (Baltic)
Dulcis –--> Automobile Dacia (Black Sea)
Ocean Solution Group –--> МТГ Делфин aka MTG Dolphin (Black Sea)
Sporklift –--> Балканкар Рекорд aka Balkancar Record (Black Sea)
The Train Foundry –--> Softronic (Black Sea)
More screenshots: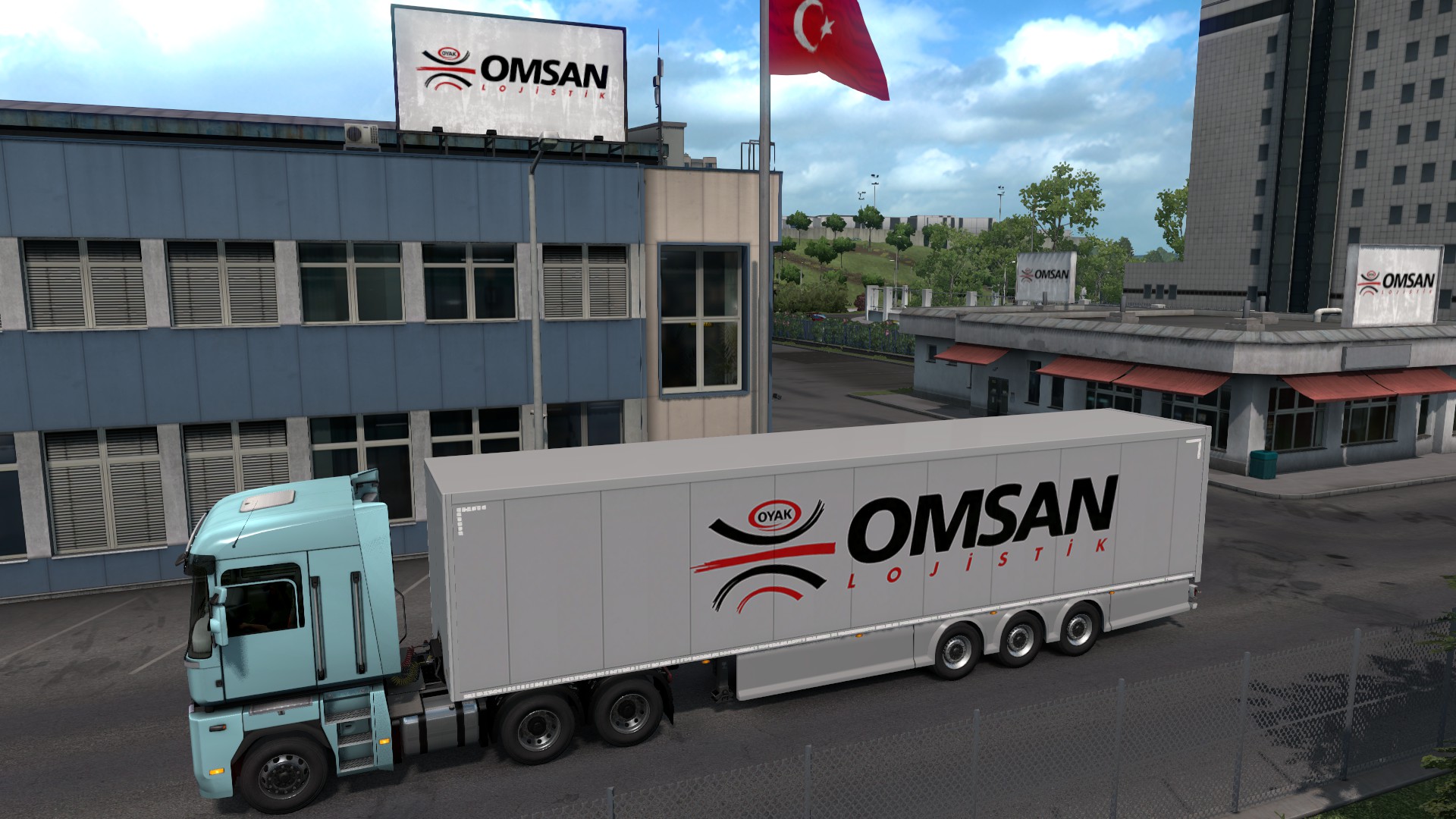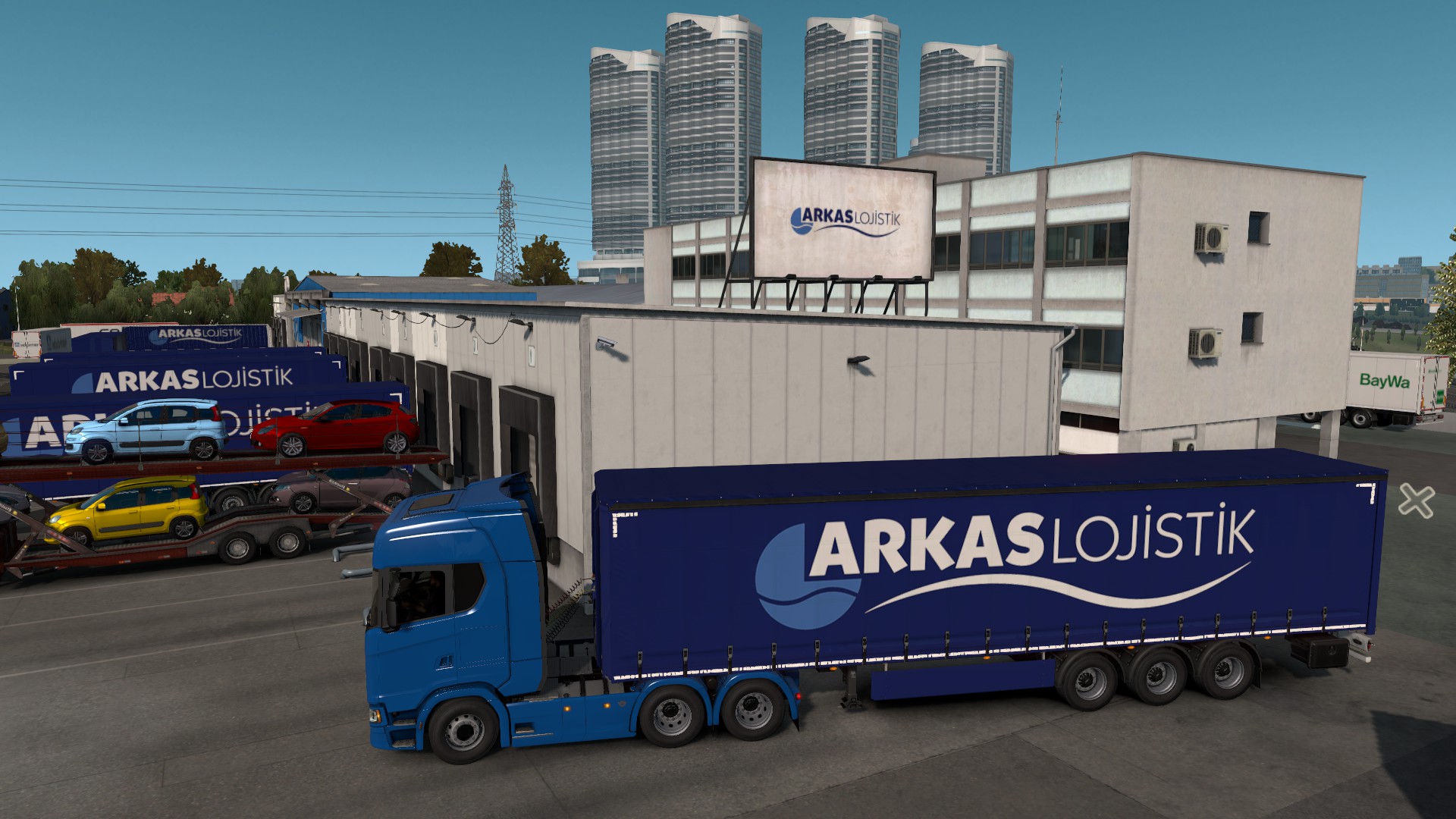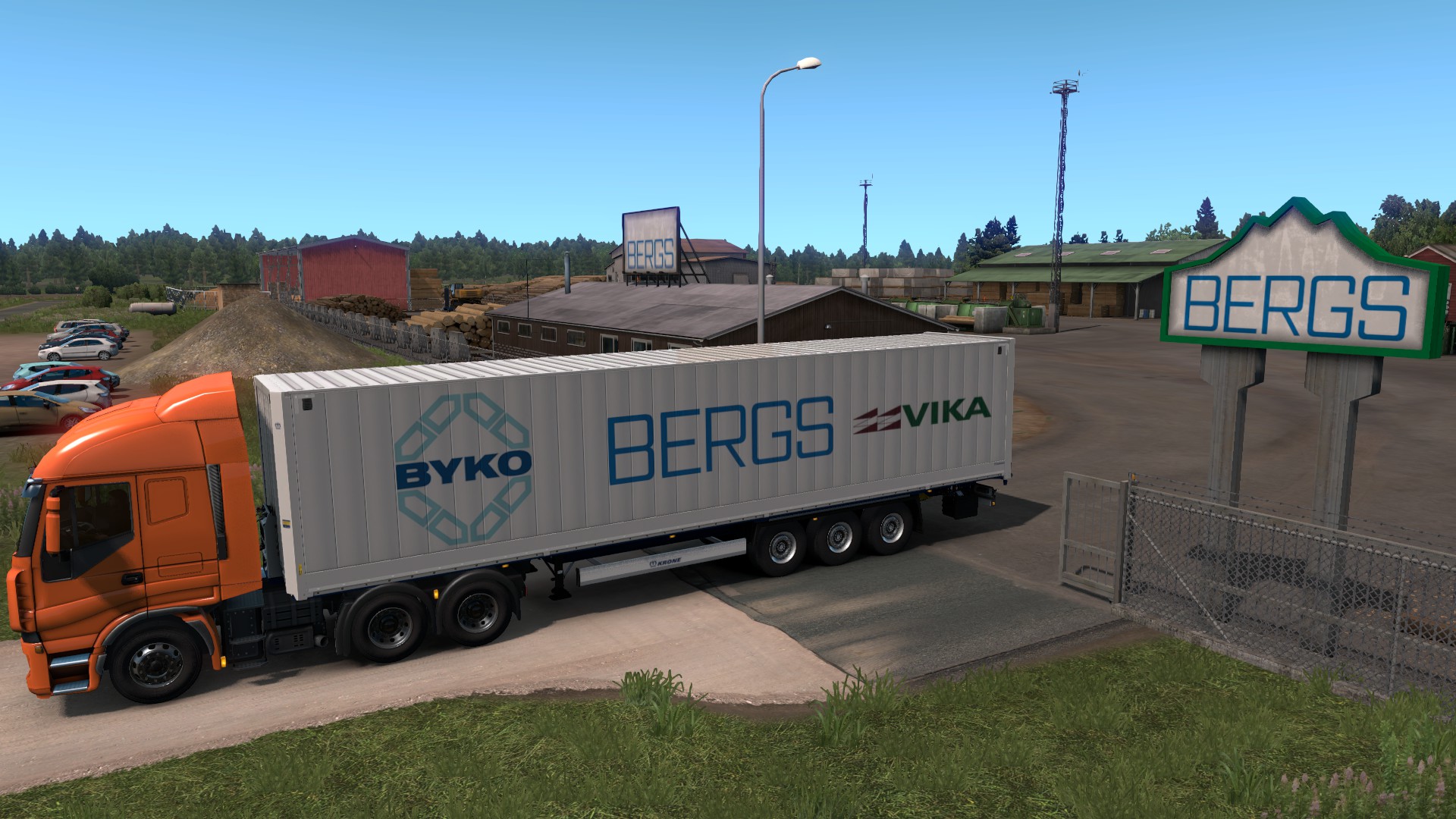 ---
Posts: 660
Joined: 12 Oct 2018 09:42
Location: Barcelona
Contact:
I'm glad you made the decision to work on DirectX11!

Thanks again for all the updates.
The "spots/traces" (I don't know what to call them) that some posters, is due to the sun and rain that has been affecting over time, right?

i like it.
Sorry for my english

Realistic Rain Mod
My ETS2 Workshop mods
My ATS Workshop mods
---
Posts: 43
Joined: 04 Oct 2015 13:22
Excellent mod. The hard work is clearly visible, thanks for your time and effort.
---
Yes, this is true dedication. It's nice to see...

---
Thank you all for support

.
Darkcaptain

wrote:

↑

11 Jun 2020 11:34

The "spots/traces" (I don't know what to call them) that some posters, is due to the sun and rain that has been affecting over time, right?

i like it.
That's not done by me – it's done by SCS in Blender, and I both hate and love them

but that's a long and different topic.
-------
There is a change about bonus content – it's going to take some time as I still do research what should I try to improve. Some textures are going to get update for sure but some other,
I don't know yet.
Regardless, I'll release tomorrow the last two replaced companies and that means mod is finished 95+%. Bonus content is just that – it's not the core part of the mod. I'm much more
keen to recolour those two gas stations / companies in France and Italy...
Blast from the past (28.9.2017.):
And finally, just like we created real gas stations, there is a plan to do the same with companies i.e. Real Companies Reloaded. Research is already fully done.
viewtopic.php?p=805562#p805562
Yes, it was true – I did all the research, and I used it for this mod, but various things happened and I stopped playing ETS 2 until this May…
Even mod is DX11, it doesn't lower fps at all. My best friend has some old Athlon II X4 CPU, 8GB DDR3 and Radeon HD 7750 and game works equally. I didn't increase resolution of textures
– they are as SCS made them.
COMPATIBILITY with other mods
1) MAPS
There is nothing to add as is already well known – it works flawlessly with the all major map mods which are extension to the SCS maps.
2) TRAFFIC
If you don't have fast single core CPU and plenty of RAM you should avoid them as they destroy frame rate, but your call

.
Anyway, I highly recommend
ETS2 Real Traffic Density
. Mod really shines with it.
Let us talk about the famous AI traffic packs.
I never tried Trafficmaniac mod so no comment. I also don't use Trailers and Cargo Pack by Jazzycat, but what I use are almost all his traffic packs:
ai_traffic_pack; bus_traffic_pack; motorcycle_traffic_pack; russian_traffic_pack & truck_traffic_pack.
For some reason, even my mod always has higher priority, these two mods: painted_bdf_traffic and painted_truck_traffic_pack – they just override my mod and I never saw my trailer skins
used by AI trucks :/. Maybe some of you have different experience, but that's my so I don't use them. To each their own

.
---
Who is online
Users browsing this forum: Pardubak and 7 guests