@Flemming V
wow nice job! When it will be released?
---
I have used and enjoyed this mod for quite some time. Excellent work and quality, and this update just pushed it even further. Thank you for the hard work.

Question on the flatbed. I have a flatbed truck and tandem trailer and went to pick up a load of straw bales. Seems when I loaded my cargo the game said I had bales but I could not see them (truck and trailer appear empty but Navigator said I had a load). Was curious if anyone else had this same issue.
---
---
Where is the skins? I can't find.
---
@zippe
thank you. I should have my morning coffee first before reading the threads. I missed that part.
---
Hello and good Evening,
after some Tests with new Skins for our VTC, here the Result, I made
with this fantastic Mod: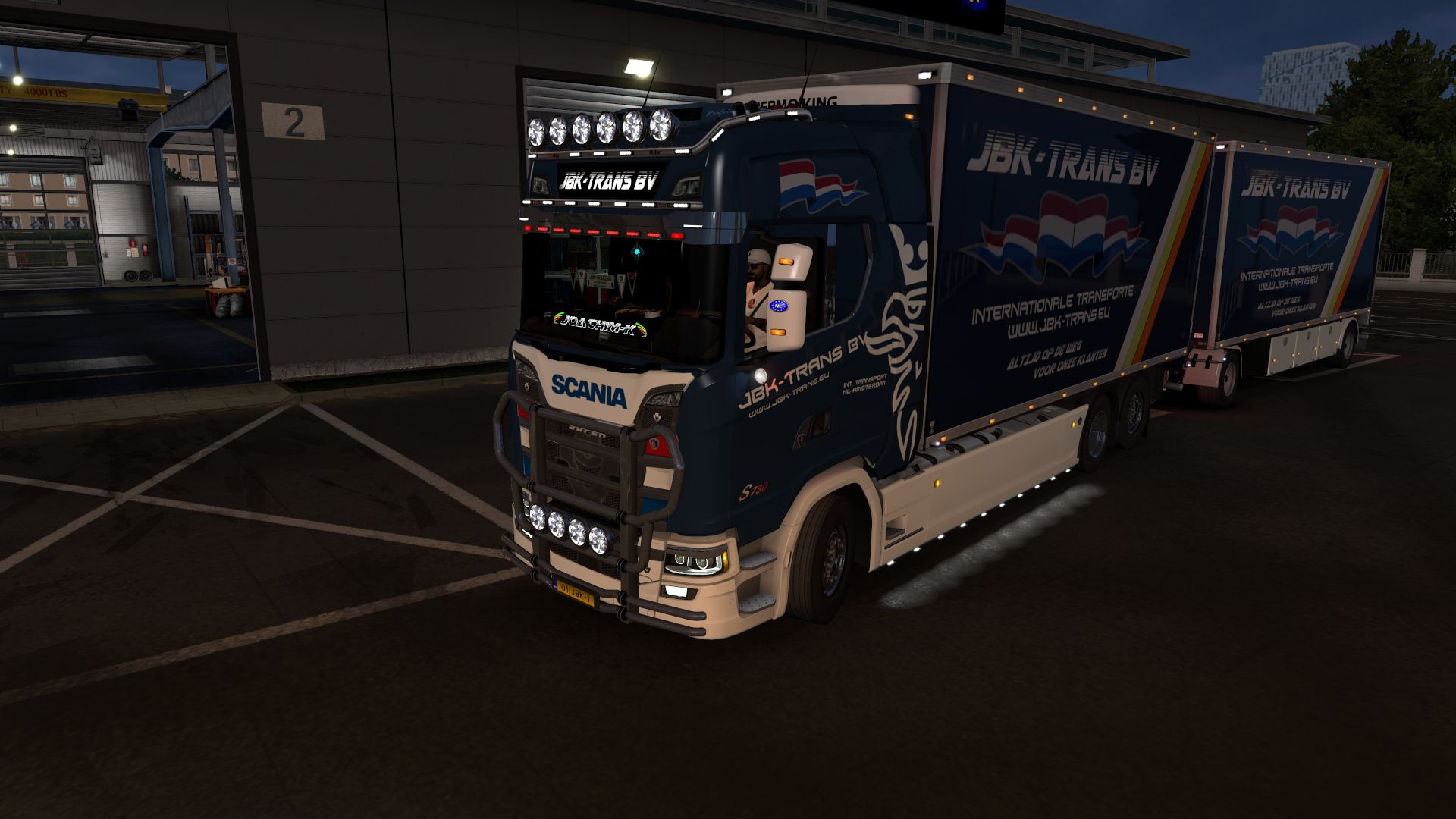 JBK-TRANS
   |   
JBK-TRANS vCOMPANY
We looking always for Drivers
---
Posts: 446
Joined: 23 Sep 2017 00:15
MOTHERBOARD: MSI B450 TOMAHAWK MAX
CPU: RYZEN 5 3400G (WITH STOCK COOLER)
RAM: BALLISTIX 8GB 2400MHz (OC 2666MHz)
PSU: CORSAIR CXM 550W
GRAPHICS CARD: EVGA GTX1080 8GB
STORAGE: 128SSD & 1TB HDD
OPERATING SYSTEM: WINDOWS 10 (1809 Version)
---
Hi I like to have some skins that I had back. But the skinpack mod doesn't work anymore and I still have not found an update..is it still possible to give the several boxes and tanks and containers different paint jobs?
---
Yep, im also getting pretty significant "wobble" with load, using the nontandem trailer, ie just the rigid. Over 75kmh consistently.

Its a new profile, using the DAF on 4x2, and 6x2 chassis, curtainsider box, tested various loads at the 5/7t mark.
Stability and suspension sliders full left, mid and full right, all settings same happens.

Using this version and the last. 1/37

Can post video too if it help.

edit
also:
Switched to the Coolliner box with 6x2 chassis - rigid only, no load, ran smooth to redline, 90kmh
added trailer (insulated-non) loaded with 7700kg toms, smooth up to 80, unstable at 90.
---
Global moderator
Posts: 10040
Joined: 28 Nov 2012 10:41
Location: Denmark
Contact:
hecatonchires

wrote:

↑

03 Jun 2020 20:24

@Flemming V

here is a video of the issue i discovered while using the dolly trailer.
You video is private, I can't see it.

On page 1 you can download the skin to be edited and used for version 137.
Thank you, I will look into it within the next 2-3 days.
It's just a question of finding the right spot for the cargo (weight) on any trailer to make it more stabile.
Time which I did not have before.

---