Forum and modding wiki won't be available this weekend, March 6-7. Sorry for the inconvenience!
Posts: 860
Joined: 08 Mar 2016 07:05
Loading order its first LAW in Mod Manager.......OK?
---
---
Yes just look on the steam workshop. There are a few for this tandem mod.
---
I have a problem with loading on open trailers (Flatbed, Dropside). The cargo is not showing. They continue to be empty, even though the information is about loading. Is this the cause of some other mods?
---
Posts: 860
Joined: 08 Mar 2016 07:05
@Graphic
Read previous pages, and....... ok?
Flemming V

wrote:

↑

05 Feb 2021 21:09

Thanks.

Yes, visible cargo will have my full attention now.

Even, I am also thinking about making a Ultra short drawbar and tandem trailer for the ultra short Chassis truck at the moment.
---
Hello. i have a problem because my truck with cargo (no trailer) is shake over 60 km / h. I tried on Volvo and Daf with 4x2 and 6x4. any ideas where is the problem?
I also tried typing these commands:
g_trailer_stability 0
g_truck_stability 0
g_suspension_stiffness 0
g_cabin_suspension_stiffness 0

ofc i have v139.00 version
---
Global moderator
Posts: 10045
Joined: 28 Nov 2012 10:41
Location: Denmark
Contact:
---
Posts: 860
Joined: 08 Mar 2016 07:05
Hell Yeah

not problems woth LAST version, and not problems with BETA. No shake, no auto park to "no trailer" .
---
I totally believe that the one who uses version 139.85 can no longer have problems like tremors or something like that. After revising this mode to this version I have not found any mistakes so far and even below 1.40.108 everything works properly. I've been playing this mode for 5 years now.
---
For me everything works very good. We're still testing all Combinations and also making some Skins.
The newest is a Test with the white Templates.
@Flemming V
I find out only one Problem.
When I drive with Chassis with Lift Axle and I want to drive with lifted Axle, the Truck has no more Drift
and becomes to trembling. So I must drive all times with Lift Axle down. That's the only Problem I have.
My actual Combo: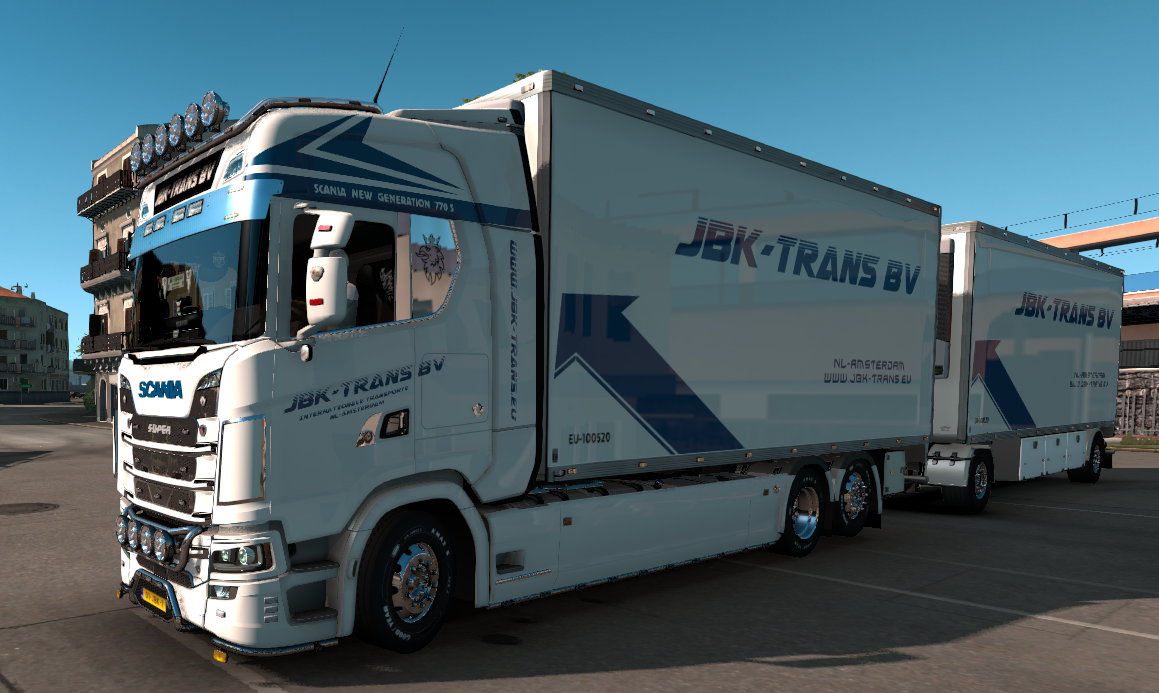 A nice sunny day at everyone.
JBK-TRANS
   |   
JBK-TRANS vCOMPANY
We looking always for Drivers
---
Who is online
Users browsing this forum: Rini66Arkel and 13 guests