Posts: 286
Joined: 04 Jul 2016 07:47
Location: Nuremberg, Germany
---
---
Posts: 14
Joined: 07 May 2016 10:37
Thunderhawk, you said in the first post as follows:

Please note that:
ETS2 1.24.* is minimum for V1.1 & V1.1.1!
ETS2 1.25.* is minimum for V1.2 & above!

I'm running the 1.24 ETS2 and my Actros has the paintable sunshield option, and the Arocs in the store has the Cadzow and Svetska paintjobs. The sunshield and paintjobs were added in and for the Big Stars 1.2.1 and ETS2 1.25, right? (I'm using the Steam version of WTD Big Stars) Does this mean that the Big Stars 1.2.1 also works in ETS2 1.24?


For those concerned, I haven't updated to 1.25 because RJL has yet to update his Scania...
---
Posts: 387
Joined: 22 Dec 2012 10:16
Location: germany
If you are using Big Stars via Steam, the note isn't relevant. ... I will edit the first post.
Version on steam supports 1.24.* & 1.25.* - updated both with the skins, sunshield, ... - 1.25.* also received own steering wheels
So it dosen't matter if you use 1.24.* or 1.25.*, you got the general fixes and additions of 1.2.1.

BUT, the regular download of 1.2.1 is only for ETS2 1.25.*

Best regards,
Stefan
---
Posts: 14
Joined: 07 May 2016 10:37
Alright, thanks for the response thunder, glad I could point it out.


By the way, how do I edit the paintable sunshield? Is there a template for it?
---
Posts: 286
Joined: 04 Jul 2016 07:47
Location: Nuremberg, Germany
@DurandSmith: you can use David's MP4 template for the sunshield, the sunshields have the same position.
---
Posts: 14
Joined: 07 May 2016 10:37
Thanks LadenSwallow! I'm checking it right now.
---
Posts: 14
Joined: 22 Jun 2015 16:28
---
Posts: 286
Joined: 04 Jul 2016 07:47
Location: Nuremberg, Germany
And another one: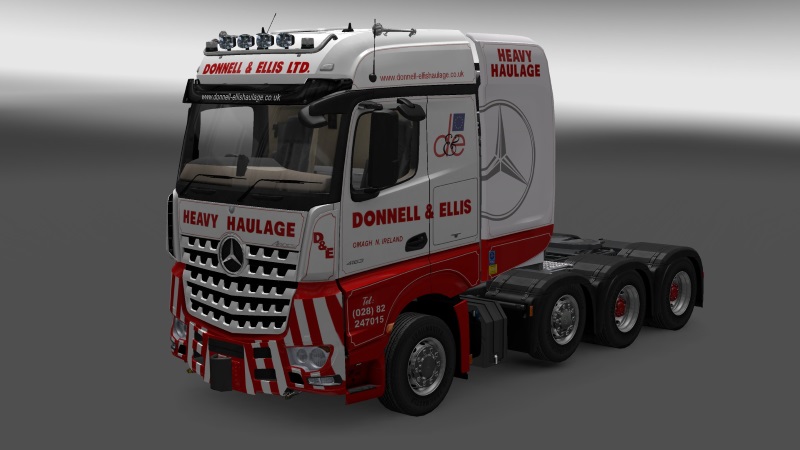 @Gordon_Gekko: looks really authentic, your Ruttle

---
Two new skin from me
Kubler Spedition :
Chappell's Heavy Haulage :
---