@ m4rc10w

For the W900, would you do some of the side gauges (I know they won't all fit)?
---
@sketch, I can change some of them in place, because what fits on a tablet or common widescreen monitor is just the part behind the wheel, but there is no longer a panel of w900, is not true?

The right thing would be to make this dashboard separate in 2 parts (behind the wheel and on the side), but there would have to use 2 tablets or monitors, and few people use it

Maybe I'd better try LoneStar's then, but it has so little information about its panel (especially the digital panel in the center


)...
---
Well, I don't mean put them somewhere else, but I think you can probably fit 1 set of gauges on either side of the part behind the wheel, at least on a widescreen layout...
But it's okay, I'm still happy using the T680 dash on my iPad

In that case, I would vote for the Peterbilt 579, I would love a nicer version of that. I use the 579 dash on my iPad when I drive my 389

---
Hello.

I have a problem. I can not connect to the server. The software is installed on a wired computer and the client on a wireless computer, both on the same network (DIR-615 router). However, the client can not access the web page of the server. When I install them both on wireless only I can access them. How do I solve this. I plan to use the server on my desktop (wired) and use the client on my wireless notebook.

Thank you.
---
Global moderator
Posts: 8031
Joined: 22 Oct 2013 07:55
Location: The Lost Coast
If it works with both computers on Wi-Fi, why not do it that way? The Wi-Fi dongle I'm using cost me $12.00. Or, as an alternative, have you tried switching the Wi-Fi to the other computer?
You can call me Ax
---
Probably a firewall issue. You need to allow incoming connections on the server on the appropriate port.
---
problem solved. Anti virus blocking.
Thank you.
---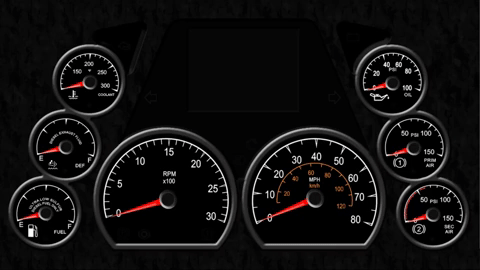 In finishing and tests, download link soon

---
Alright, I've sifted through 20 pages on here and I couldn't find it.

I had an old iPhone 4 laying around, so I decided to use it for this dashboard. I installed it and everything works great, for about 5-10 minutes. My phone will go back to the index page automatically to where I have to choose which dashboard I want again. I downloaded another browser to see if it was garbage Safari causing the issue, and it still does it.

When I use my giant tablet, it stays up for about 40 minutes or more before going to the index page again.

Any suggestions? I have my iPhone 4 hard mounted to my steering wheel and I would love to keep using it.
---
https://youtu.be/-r7nXXhZOB0
Download link on video description (and my google drive on signature, If you do not want to watch

)


---
Who is online
Users browsing this forum: No registered users and 7 guests