Shifter info links;
http://www.eurotrucksimulator2.com/input_config.php
http://steamcommunity.com/sharedfiles/f ... =236812952
viewtopic.php?f=111&t=80707
https://www.youtube.com/watch?v=stU50R5vhrQ
ETS2 Shifter Layout Setup program. Install, left click mouse to increase numbers, right to decrease, zero for gears you don't want. Save to desktop initially. Take out the zero gears you don't want. then save to your profiles after making backups.
viewtopic.php?f=34&t=120397
I changed this;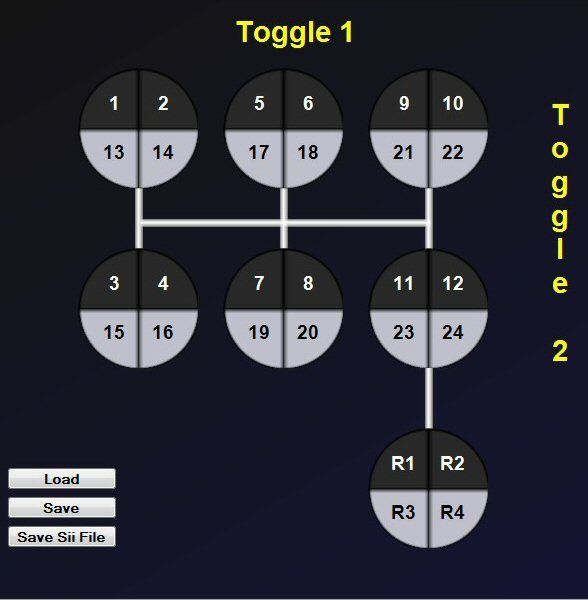 To this (thanks to Cadde for the mouse scroll reminder when adding these pics after the event);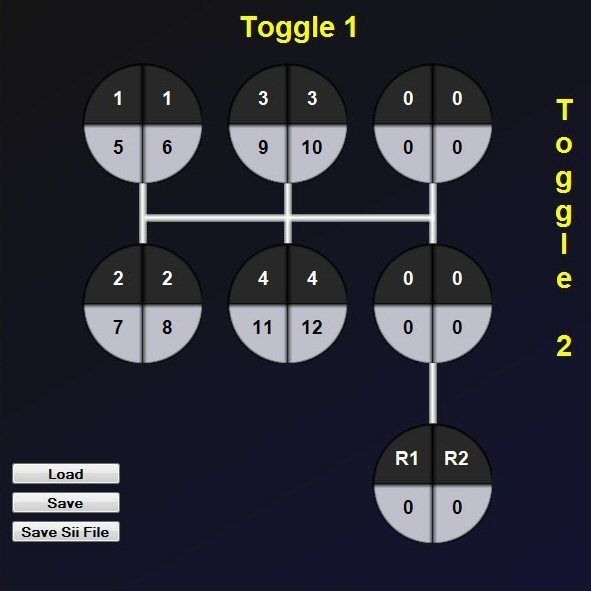 Saved the custom gear.sii file (may not be that name exactly) to my desktop. Opened it and deleted all references to the two gears with 4 zeros in and left the Reverse in but only 2 speeds. Renumbered the lines to match the deletions. Saved it and opened in the ETS2 controls. Effectively I am getting the 4 zeros as a repeat of the 3,3,9,10 and the 4,4,11,12 gears. Not because of this great program but because the last two positions (gear 5 and gear 6) are faulty on the shifter.
Note: since replaced and received calibration software from another source, see below....
For those who want or need a standalone shifter to a PC. I used the G29 shifter and this adaptor, allegedly does G25/G27 and G29 shifter.
http://www.leobodnar.com/shop/index.php ... cts_id=188
Edit: Leo just sent me a link to the calibration software for the adaptor. You place the shifter in all available positions and they show up on a chart with decimal numbers showing all positions. As the H Gate wears you can update the positions accordingly and upload the new data to the adaptor. Which then sends the data to your puter and ETS2/ATS etc.... Pretty cool idea! He said I could have fixed the faulty position of the pots on the 1st shifter, which I had later swapped for a replacement