Posts: 7543
Joined: 13 Apr 2016 21:57
Location: Wichita Falls, TX
Contact:
@Grimples: That'll never happen, SCS is not big enough of a company to afford giving us servers for official multiplayer.
Author: C2C Eastern New Mexico, Texas, Oklahoma and Kansas improvments
ETS2 Map Combo:

PM, Scandinavian Addon, RusMap, SR, The Great Steppe, PJ Indo Map


ATS Map Combo:

Coast to Coast, CanaDream, Tonopah Reworked, US Expansion, Viva Mexico
---
Posts: 1021
Joined: 18 Jun 2014 22:28
Location: Texas
Contact:
ShirBlackspots wrote:Grimples: Multiplayer is not steam only (its not on steam at all), its located here

http://www.truckersmp.com
Except it requires Steam to use.. so in essence, it is a Steam-only thing. Doesn't work for the old disc install of ETS2.
No longer actively posting on these forums. And no, don't PM unless I happen to know you.
---
@ShirBlackspots. You misunderstood, SCS will have nothing to do with the servers, there will be no public servers at all, what they need to do is implement the feature to create our own servers with password protection. Your PC or your host website will be the server & other players will connect to your PC. Game versions would have to the same per server, any mods installed in the game that is serving would also be visible to players if they have the same mods. Filesize would be a big problem if servers want to use mods like ProMods but they should only need to transfer def files, image files wont matter because they dont effect gameplay rules.
If games like HnD2 from 10+ year ago could do this then i cannot see why SCS could not do it, they could a least investigate, would make many players like me & Ax & some of us respectful older folks very happy, creating convoys or just driving together with no interference from idiots.
Before i started playing ETS2 i was playing GTA SAMP (San Andreas Multiplayer), i found a truckers (there are quite a few) server & i loved it & played so much i became a moderator because am a nice respectful person

There are 100s n 100s of servers hosted by just normal players from their PC's, no gamespy or anything like, the app to play MP was made from a player who new how to script, someone just like Sniper with his progam. I have no idea who made the program to play MP in ETS2 but i bet if that person tried they could implement the ability to create personal/private servers (this idea has just come to me now).
If anyone has not ever played GTA San Andreas MP i suggest you should look into it, especially the trucking servers. I hated the game btw, dont like gangstas & all this mofo crap, i played for like 30 mins & that was enough.
---
This MP concept has been talked about for quite some time now and most agree with you Grimples that it needs to be done on private servers with LAN /WAN capabilities.
It does not seem to be in SCS's best interest as they are concentrating on WOT to implement whatever their vision of MP will be. So doubtful they would move to another concept where the end user has the control.

It will take a private team to develop such servers as the original team that setup ETS2 MP now Truckers MP. Rootkiller, one of the original members now works for SCS.

To think that another team will appear that knows enough about the inner workings of the game and willingness to work for small contributions is something that seems doubtful at this point. But you never know how things will turn out in this game.
---- Rockies Back. This time HE'S at the wheel. Look out stoopid hoomans.
---
The only real difference, is the size.
Two wrongs don't make a right, but three lefts.. do.
---
@San_Sany4
I prefer SP. I was sceptical before TruckersMP release and in first stages, because there were a lot of community issues. Like when 3-4 trucks in a row were speeding wrong way on autobahns, making wide unavoidable ram, mostly they were Brazilians.
It is not only Brazilians but yes, several people from parents who do wrong things in MP, see this image that was in 2015.
we were blocked by these two why did they do it?
so don't judge, only Brazilians.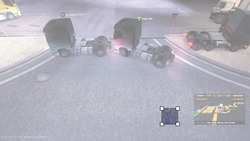 ---
One of things for a game make success today its a official MP server. The TruckersMP its amazing in my opinion, but, if SCS launch a official MP would be better for sure...
If you want to play on MP mod and dont like the trolls, report him. I dont see problem's about that.
Im a loyal fan from SCS, but i dont like to play with or without mod's in ''offline''. Even with some trolls on MP mod i prefeer to play on MP. Remembering, this is my opinion and i respect who dont like to play on MP mod.
The TruckersMP should be have more options to play... private servers would be good, to use private mods (truck's, trucks part's...) But, what we have today, to me its good.
---
Posts: 210
Joined: 26 Apr 2020 10:25
Location: Latvia
Official Multiplayer,
No!
---
Who is online
Users browsing this forum: No registered users and 3 guests