OK. I will not stay here without speaking while a man insult us (Romain and me). For recall he said that Romain is an impostor (he just was brought up on this kind of trucking by his father, who help us when we had doubt from technical terms). He also said that is us old medicinal vocabulary. I'm just 26 years old and I try having a good way of speak (not a childish's language). Finally, he said we was trolls because he doesn't understand that :
- we have length constraint
- he doesn't respect our choice (for example : shift for each keyboard letters - Maj Gauche)
- he decided that we had to add accents on shifts letters : that's not an obligation but a recommendation. In Dirt 3, they don't use accentuation on shifted characters (as you can see, they used ECRAN and not ÉCRAN, PARTAGE and not PARTAGÉ, RESEAU and not RÉSEAU). Translators are professionnals for this game. We have made choice for a better display ingame and it seems that's not a bad choice because professionnal translators made the same choice... We are not professionnals but our point of view defends oneself.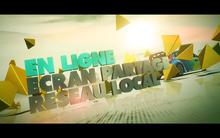 OK, there is few grammar problems and some errors, we are not professionnal translators and human can make errors but we have
heard suggestions... If he respected our work, he just said us what it is not good and we would change without take us for shit (sorry for the word).
Then, this guy thinks that translate this game take 5 minutes but we've made a lot of test for finding translations wich are not cut in the game. For example, we ask any idea form others translators for "Upgrade Shop". This was on Jan, 30, 2013.
We said that we try some translations but all had 1 letters too long. What does he do ? He had 3 letters on our translation !!
As he says : Ridiculous !
Now, I will speak about his technical terms. For him :
Parking Brake = Handbrake
Motor Brake = Brake on exhaust
I pass through the others technical terms...
Last point. This guy has changed a lot of strings without speak with us. At the lastest news, translation is a based on exchanges. For example, with Romain we have speak many hours on Skype for translate this game. Hyeron came and broke our work.
Hyeron is belgian, he criticize french peolpe, as he wants... So maybe I can laughing about the fact that in Belgium there are not able to be agree on the official language, on their little stupid war on flemish or walloon... but it will be childish...
Now, it seems that guys which take part in this topic don't speak french (except one or two man(s)).
In conclusion, I hope that others translators won't have a new Hyeron build who believe that he is THE translator.