Renault Magnum Updates v21.01 for ETS2/ATS v1.35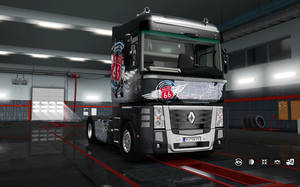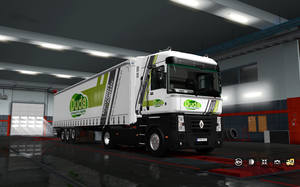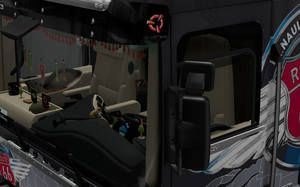 Changes in current version
* Adaptation to version 1.35 and to DirectX 11
* Updated camera settings
* Updated on-board computer
* Updated sounds
* The lift axle indicator now shows the status of the axle on the trailer (and not on the truck)
* Added three chip-tuned engines - for 577, 615 and 677 hp
* Added black variant of trailer cables
* Added "Route 66 Metallic" skin
* Added "Renault Magnum Metallic" skin for Magnum and for Krone trailers
* Added "Duda Transport & Logistic" skin for Magnum and for Krone Profiliner trailer
* Minor changes on the exterior and interior model
* Removed outdated version of wheel chocks
Install
1. Put the file
magnum_updates_v21.01_by_knox_xss.zip
into your "mod" folder.
2. Put the fix
magnum_updates_v21.01_fix.zip
into your "mod" folder and give it higher priority.
Fix-downgrade for v1.37+
As a temporary solution, I can suggest a fix for version 1.37:
download
(without window animation!). Thanks to Piva for helping with 1.37 stuff.
Actually, this is a downgrade of the onboard computer ("thanks" SCS

), and some defs changes.
For tandems
(optional)
Put the file
magnum_updates_v21.xx_bdf.zip
from "BDF" folder into your "mod" folder. You can buy these trailers through TEDIT.
For American Truck Simulator
(will be later)
Helpful information
* If after beacon name there is a "Low beam" sign, then this beacon turned on with low beam.
* For connoisseurs of realism was added 1800 degree steering wheel in interior animation.
You can uncomment it in files
def\vehicle\truck\renault.magnum\interior\animations*.sui
(in main mod and/or in the fix): remove the first two characters (//) in this line...
Code: Select all
	//wheel_anim: "/vehicle/truck/renault_magnum_2009/interior/wheel1800.pma" // 1800degree 
Download link:
1.
Main mod
ShareMods (83.9 MB)
2.
Fix
ShareMods (131 KB)
I express my gratitude to Renault Trucks, SCS Software (and personally to
Komat
), Simon (
50keda
), Dmitry (dmitry68), Vyacheslav_A, Oleg (oq37), Denis (DANZ), Sergey (Supric), Vadim (piva), Flemming (Flemming V), David (Davidzoli), Enrique (SheryO), kuba141 and many other fans of Renault Magnum, serves a variety of ideas and carrying a healthy criticism.

Copyright © 2012-2019 by Alex (Knox_xss)