[powerkasi] Light & Accessory pack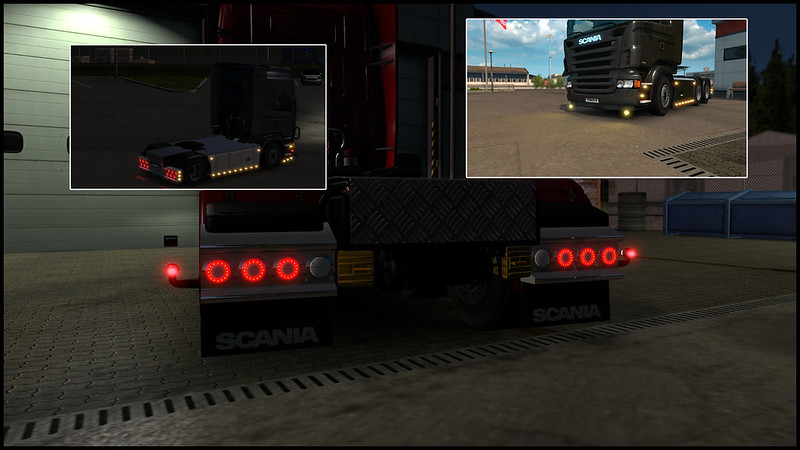 DOWNLOAD LATEST VERSION
version: 1.3.1
Currently supported game version: 1.30
This pack contains several mods and reworks what I have made.
It's recommended to use RJL's Scania and P8 Scania RS Addons with this lightpack.
CHANGELOG
From 1.3 to 1.3.1
- Unused file "P8_Horns.sii" removed
From 1.2 to 1.3
- Updated for 1.30
From 1.1.3 to 1.2
- Paintable NBB lights.
- Short sidelights with stands.
- New lightmask and flares for 50k's foglights/lollipops.
- Added more horns.
From 1.1.2 to 1.1.3
- Tones added for horns.
- Boreman marker lights added.
- Materials of Hella marker lights updated.
- Lots of small fixes.
- New version of torpedos added.
From 1.1.1 to 1.1.2
- Mudflap's shadow problem fixed.
Credits:
Sidelights: RJL, 50k, powerkasi
Hella Marker Lights: powerkasi
Boreman Marker Lights: powerkasi
Highline Lightbox: 50k, powerkasi
NBB Lights: powerkasi
Jokons: Mattias P, powerkasi
Lollipops/Foglights: 50k, powerkasi
Horns: powerkasi
+SCS
You can share this on other sites but KEEP ORIGINAL DOWNLOAD LINK AND CREDITS! NO NOT REUPLOAD TO OTHER FILE SHARING SITES.