This has started as a small fun experiment, to save me from melting my brain while working on the T800 megamod, but it gained alot more interrest that I originally anticipated, including some of our team members.
That's why we decided to release it as a small, kinda standalone mod.
Kinda? - yes - the textures used by the truck are 99% SCS made. (With only 2 textures which were custom made to fit new needs.)
But enough intros.
THIS MOD ADDS TO THE GAME AUSTRALIAN KENWORTH T610
or at least something that's meant to look like one...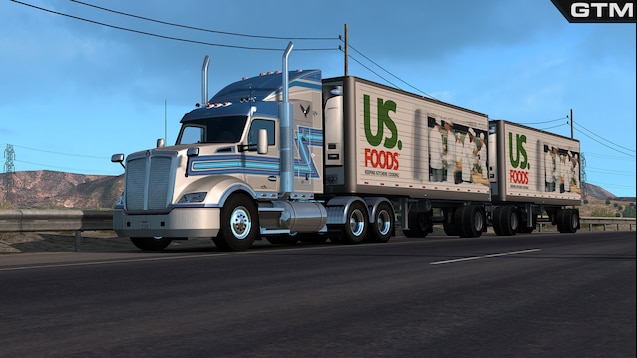 WITH SOME TUNING THAT ALLOWS IT TO LOOK ABIT MORE AMERICAN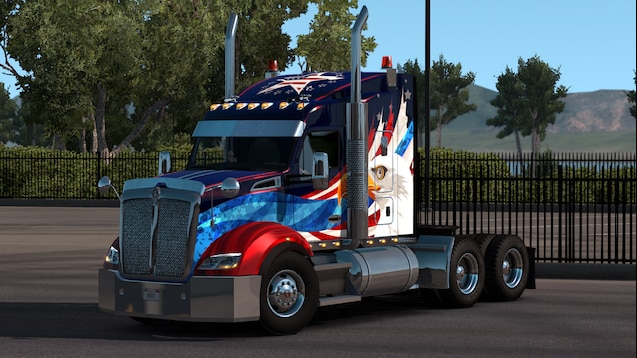 V1 version of the truck comes with:
1. 3 cabs:
-daycab
-sleeper cab
-sleeper cab with roof deflector
2. 4 interior variants for each cab (based on T680)
-grey
-grey VIT
-tan
-tan VIT
3. 2 chassis variants
-6x4 short (for daycab)
-6x4 long (for sleepers)
4. Realistic engine/gearbox options (meaning there won't be too many of them

)
5. Tuning Options
-9 front bumper
-2 rear bumper
-3 front fender trim
-2 hood mirror
-2 hood deflector
-3 sunvisor (depending on cab variant)
-beacon
-roof marker light adapter
-3 mirror (just like in SCS's T680)
-2 sideflare (depending on fuel tank sellected)
-2 exhaust
-3 fuel tank
-4 rear mudguard
-2 mudflap
6. Collection of unique paintjobs
7. Compatibility and patches:
-built-in compatibility with SiSL's Megapack
-SCI steering wheel DLC addon patch
-Kriechbaum's ATS sound pack V2.7 compatibility patch
Credits:
GTM Team:
Wolfi, SCS - models
50keda - model fixing and tweaking, modeling consulting
Natvander - def files, technical/meritoric consulting
DaStig, Sabr - paintjobs, UV Mapping/templates consulting
SiSL - interior addon compatibility, interior tuning locators, Steam Workshop version
Carl1992 - non-Steam Workshop files, beta testing
Azu - technical input, beta testing
Subscribe on Steam Workshop
On the steam page you will find the link to SCI DLC compatibility patch
Compatibility patch for Kriechbaum's ATS sound pack V2.7:
Google Drive
Dropbox
Original sound mod available
here
Paintjob Templates:
Google Drive
Dropbox
Recommended mods:
Smarty's Wheel Pack