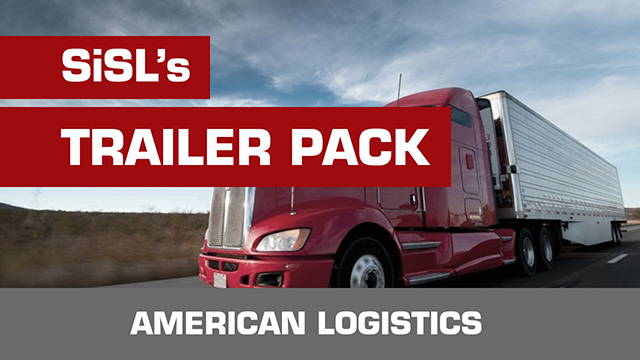 Adds over 100+ (currently) Top Grossing North American Logistics, Freight Company or Branded original trailer skins to your traffic with little to none performance loss. You can also use customized list of "always selectable" trailers of companies you like by simply selecting them.
Each trailer carefully skinned by original photos, official company brand colors as you would see on the real roads, recreating them over vector format to bring you best and official wrap what you would really see on the roads. It is not just a pack of same model copied over by simple programs, it is officially interwoven with each other thus saving you performance.
This pack is dedicated to real American truck traffic. Majorly 53 foot dry vans, reefers and doubles. Each company is cross referenced to trailer models they use.
Also adds new trailer models 53 ft. Wabash, 20 ft, 40 ft and 53 ft. Container Carriers and Dry Van with Curtain kit .
GOAL
To make your game as realistic as possible with real company trailer replicas that are actively in traffic, not old companies, while bringing zero to none performance loss. Even for your own truck spotting within virtual world.
GALLERY
You can find album with all trailers can be found at Official Facebook Page
YOUR OWN TRAILERS
VIDEO HOW-TO (from ETS2 version):
https://www.youtube.com/watch?v=EK1y14rrdz4
You can create a custom pack for the trailers you want to use always on Freight Market. Here is how:
1. Go to:
https://radiotrucker.com/sislsmegapack/trailers/wizard
and select your game.
2. You will see large selection of companies and different for each trailer type.
3. After you select by going through trailers on Next button, you can get your own specialised ZIP file, that you can put in your mod folder, add to your mod manager (ofcourse, you need this mod in your active list)
4. Go in game, go to Freight Market, select a box trailer, go to company yard to get your job but press on Cog/Gear icon and select your picked up trailer. You can always use these trailers you like.
Also you can change trailers from spawned companies to use with World of Trucks from here:
https://radiotrucker.com/sislsmegapack/ ... panywizard
DONATE
You can always donate items if you like this mod, through Steam Trade
or you can simply send me a beer via Paypal
https://www.paypal.com/cgi-bin/webscr?c ... DBHA3XWFLJ
SPECIAL THANKS
Special thanks to everyone in Team GTM; Wolfi, Azu, Natvander, 50keda, SabR, xXCARL1992Xx, DaStig and rocknrollDave for pointing out every tip.
CONTENT
v1.0 -- ABF Freight, Amazon Prime, APL, C.R. England, Carlile Transport, Celadon Transport, CEVA Logistics, CMA CGM, Coca-Cola, COSCO, Covenant Transport, Crete Carrier, CRST Expedited, CSX Intermodal, Day & Ross Freight, Evergreen, FedEx, Forward Air, Hamburg-Süd, Hapag-Lloyd, Heartland Express, Hyundai, J.B. Hunt, K Line, Knight Transportation, Landstar, M-V-T, Maersk, MSC, Navajo Express, NEMF, NFI, NYK Line, OOCL, Pepsi, Prime Inc., R+L Carriers, Reddaway, Roehl Transport, Ryder, Saia LTL Freight, Schneider, Shaffer Trucking, Smith Transport, Swift Transport, Textainer, Tyson Foods, U.S. Express Enterprises, UPS, US Foods, USA Truck, Walmart, Walmart Sam's Club, Werner Enterprises, XPO, Xtra Lease, YRC
v1.1 - A. Duie Pyle, AAA Cooper, Anderson Trucking, Averitt Express, Butler Transport, Cardinal Logistics, Daylight Transport, Dayton Freight, Estes Express, FFE Frozen Food Express, Food Services of America, KLLM Transport, Little Caesars, Marten, Millis Transfer, Oak Harbor Freight Lines, Oberg Freight, Old Dominion Freight Line, Paper Transport Inc., Pitt Ohio, Raven Transport, Roadrunner Transport, RWH Trucking, Safeway, Stevens Transport, Sysco, Target, TransAm, Walgreens, Western Express, XTL
v1.2 Livestock Carrier added. BP, Chevron, Exxon Mobil, Love's, Schneider (Tanker), Shell, Sinclair Oil, Sunoco
SUBSCRIBE FROM STEAM WORKSHOP
https://steamcommunity.com/sharedfiles/ ... 1296243811