Forum and modding wiki won't be available this weekend, March 6-7. Sorry for the inconvenience!
@San_Sany4
Thank you for taking the effort. I've viewed/liked all of your images. (And faved one.)
---
Same here

Gootho Transportation -
My WoTr Profile
Your freight transport specialist with locations in the
U
S
A
(Lower 48 - Est. 11/2017)
& in
Ger
ma
ny
(Frankfurt - Est. 04/2020) to serve you!
---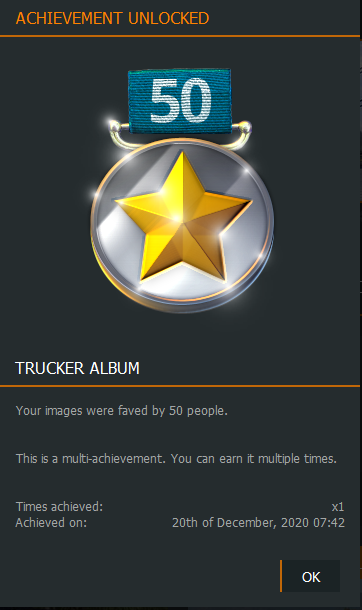 I want to thank you all who helped me get this achievement! I don't like those silly and pathos words, but maybe we really are #BestCommunityEver?..
Now I only have the distance achievements left, but their completion only depend on myself, and I will get them eventually.
---
Well done. Still got a way to go myself.
---
---
---
This is my profile, if you wont to take a tuor...
https://worldoftrucks.com/en/profile/590085
I don't speak english very well... my teacher is google...

---
Hello, Nice Topic

Here is my WOT Page

MehdiAnti's World of Trucks Profile
Regards!

---
Here is Mine

https://worldoftrucks.com/en/profile/571
Intel Core i7 6700K @ 4.20GHz
Evga GTX Titan X Superclocked - 12GB
Corsair Dominator Platinum (4x8GB) - 32Go - DDR4 2400MHz
SSD Samsung 850 Pro - 512Go
---
https://worldoftrucks.com/en/profile/5340497
And here's mine.
Edit: Big thanks to everyone who visited my profile! Honestly thought no one would even look at it, I've returned the favor to everyone who commented on my pics (I'm sorry if I didn't comment on someone's profile, it's kinda late here now...).
Patiently (not really) waiting for the Western Star 49X sleepers.
---
Who is online
Users browsing this forum: No registered users and 0 guests